How do I use the assessment builder to complete an Online Assessment?
This is part of our Assessment Solution. You will not have this option if you are a free user.
This article is a continuation of how to create an Online Assessment. Click here if you've yet to create your Online Assessment from the Gradebook main page. 
How to Build an Assessment
Step 1:
Update details in the Assessment Details Card (optional)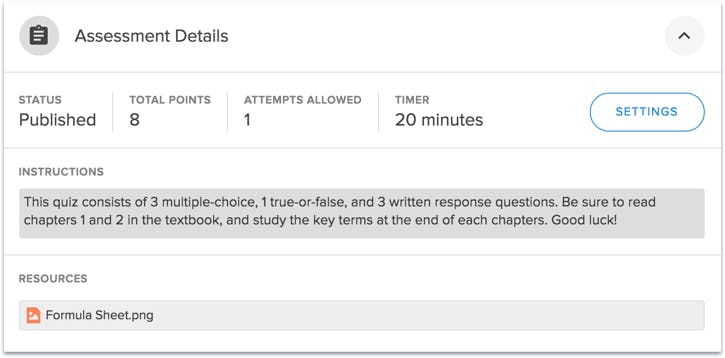 If you would like to include general instructions for this assessment, you may do so here. Any settings displayed in this card, such as, Attempts Allowed and Timer, can be changed by clicking on the Settings button in the card. In addition, you can attach any resources to this assessment that you would like to provide to students by clicking on Upload Files. Below is an example of of an Assessment Details Card of an assessment that has been published, and how it is viewed in the teacher-side and student-side.
Note: Students can only view these details only after the assessment has been published. Here is what the student view looks like: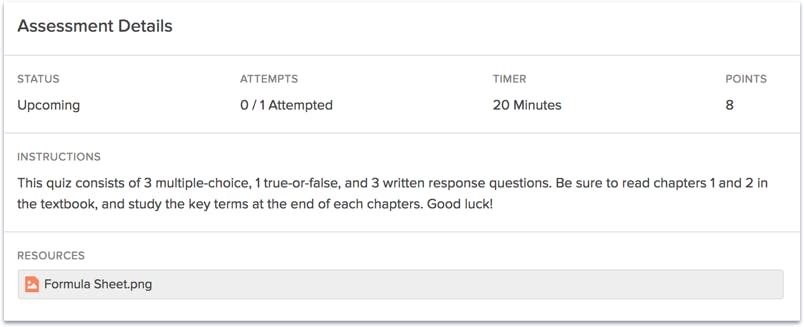 Step 2: 
Click the + button to add a question card.
Step 3: 
To select the type of question you'd like to enter click on the dropdown that says Multiple Choice. The dropdown includes a variety of question types, including:
Multiple Choice
True or False
Written Response
File Upload
Instruction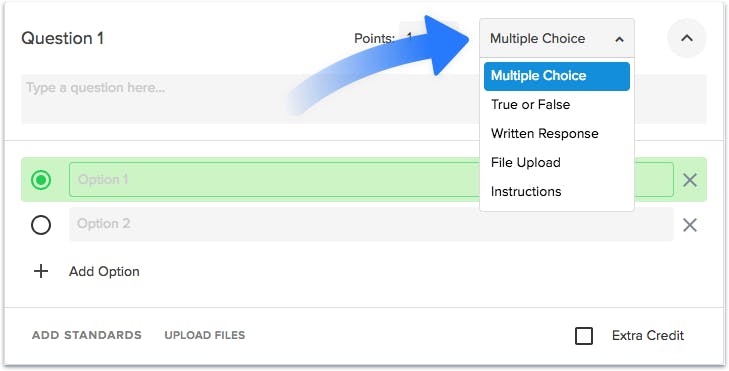 Multiple Choice and True or False question types will be graded automatically. Written Responses and File Upload types will require manual grading.
Instruction question type can be used to add instructions within the assessment. This is different from the instructions in the Assessment Details card, as those are general instructions for the assessment overall. Instructions within a question card can be used to provide instructions for a question or group of questions within the assessment itself. For example, if you would like to leave some specific  instructions before a group of questions, you may do so by using the instruction option. 
Step 4:
Type in your question here.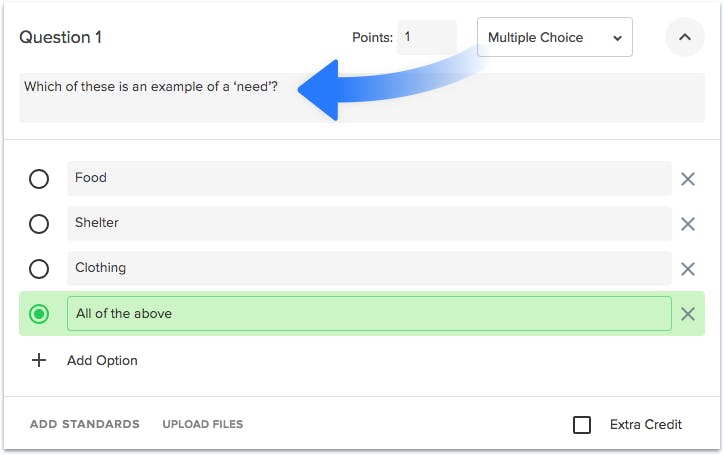 Step 5:
Enter your Answer Key.
Multiple Choice & True or False: Select the correct answer by clicking on the radio button to the left of the option.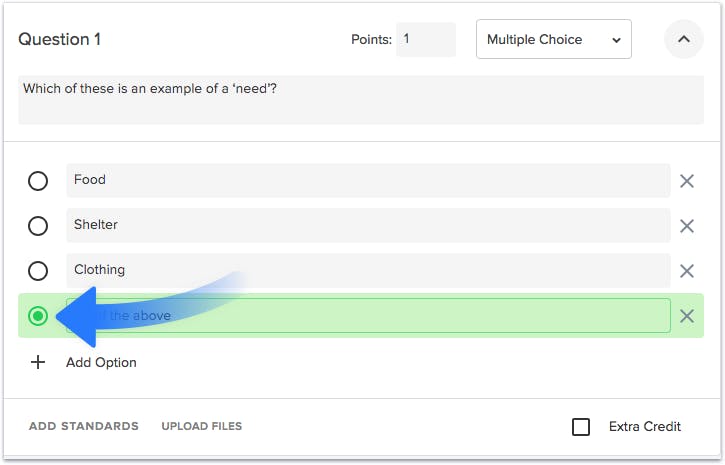 Written Response (optional): Since written responses are not auto-graded, answer keys entered by a teacher will be available as a reference while grading.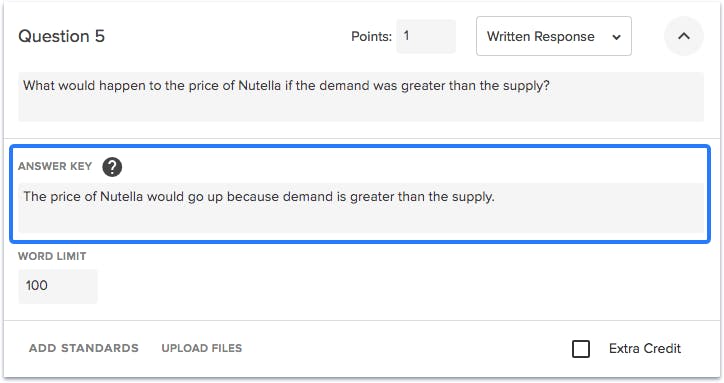 File Upload: If your answer requires a file to be added, there will be an option for students to upload a file. 
Step 6:
Set the Points value that the question. Points value refers to the value of how much the question is out of within this assessment. Questions are defaulted as 1 point each. To edit the value of a question, you can either type in a different number or use the arrows within the textbox to make the value higher or lower.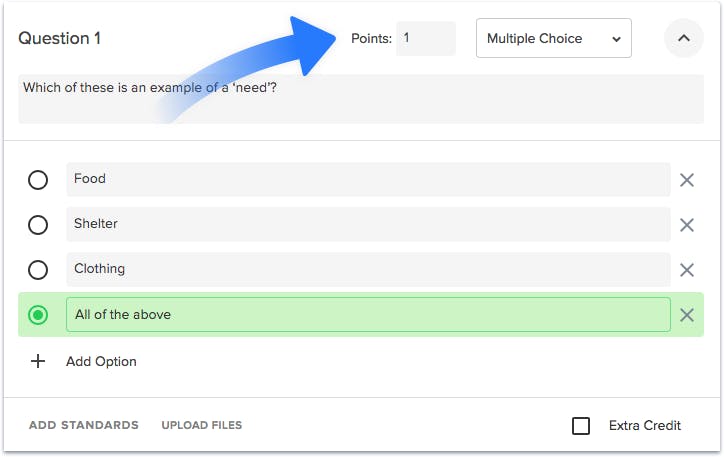 The points for each question are automatically added. You can see the total points an assessment is worth overall in the Assessment Details card.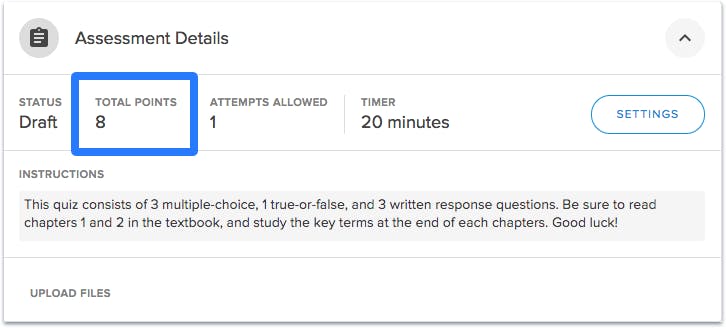 Step 7:  
Assign standards to your question by selecting Add Standards. This is an optional step, but any standards linked to your subject will be available for you to add here.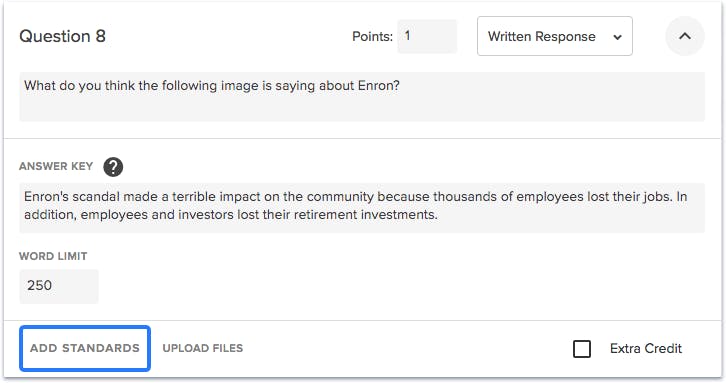 Step 8:
(Optional): There may be times where you would like to include a file within a question. For example, you would like to include an image for your students to refer to for a question. You can do so by clicking the Upload Files button. File types you can upload include: images, PDF documents, videos, audio clips, or any other file types. Files uploaded onto a question in the teacher-view look different from the student-view. See below for some comparisons: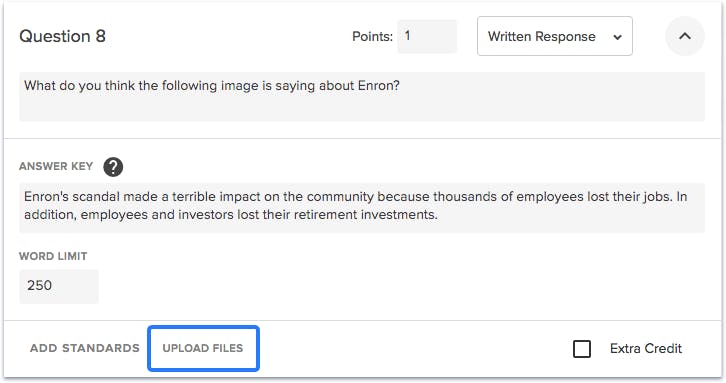 Note: Only images, videos, and audio clips can be opened on the same page as the question within an assessment. Clicking on other file types (such as PDFs) will download the file, and the file will open in a separate window, making them leave the browser. Google Drive integration is not supported.
From the teacher's view: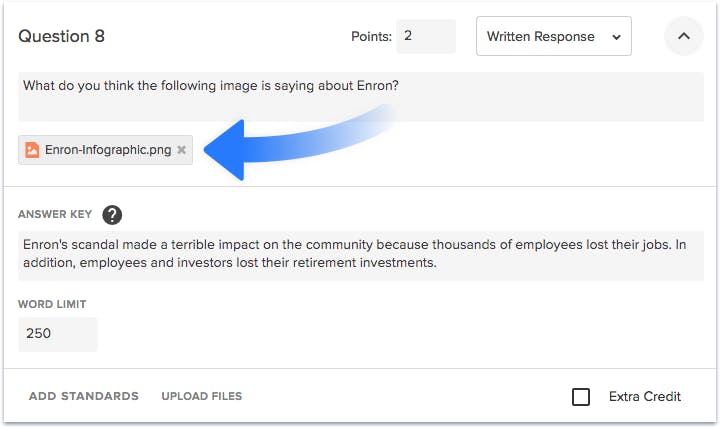 From the student's view: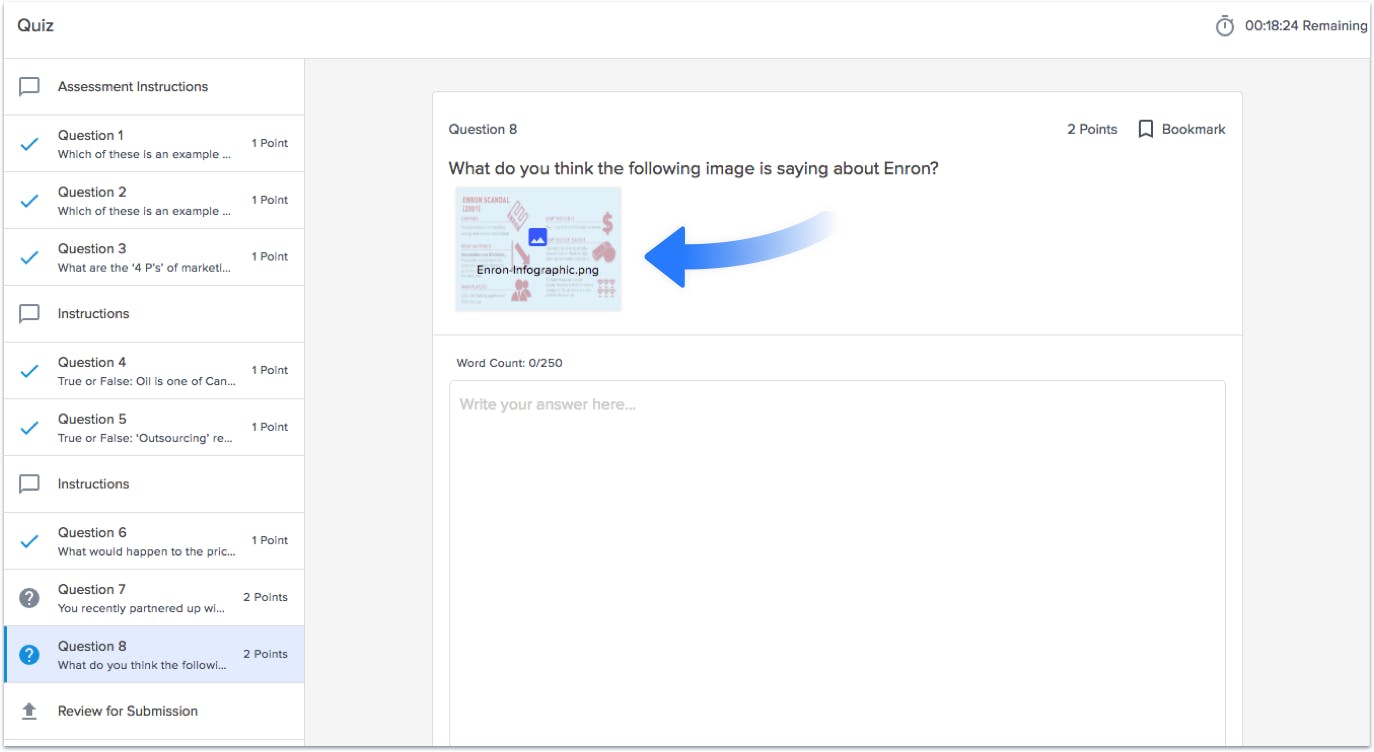 Step 9:
Continue making your questions and information cards. When you're done, click here for how to publish the draft of your assessment when ready. 
Assessment is not available on mobile.
Assessment is not available on mobile.
How do I delete or move a question?
To delete a question, place your cursor over the question card. You will notice 3 buttons appearing on the top-right of the card. Click on the red trash icon. To move a question, click the up or down arrows. To delete a question, click the trash icon.
You can also move a question by clicking the 3-bar icon beside a question in the left sidebar and dragging it into the correct location. You can also move a question by clicking the 3-bar icon beside a question in the left sidebar and dragging it into the correct location.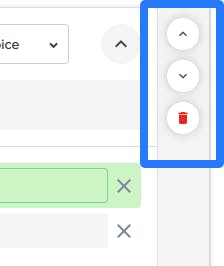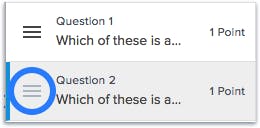 Assessment is not available on mobile.
Assessment is not available on mobile.