How do I make changes to an active grading period in Assessment?
This is part of our Assessment Solution. You will not have this option if you are a free user.
There may be a circumstance in which you need to edit the grading periods for your school year, such as a winter holiday being extended. You can edit and adjust weighting as needed ahead of teachers using the Gradebook, but once teachers begin to input grades for these grading periods, you will not be able to make direct changes to them through the regular menu interface.
If you need to make changes to a grading period that is currently in progress, you can follow these steps to create new grading periods and trigger a grade recalculation for your school.
Step 1:
Navigate to the Marking Cycles page in your Admin Settings panel, then click the +Term button on the right-hand side of the page.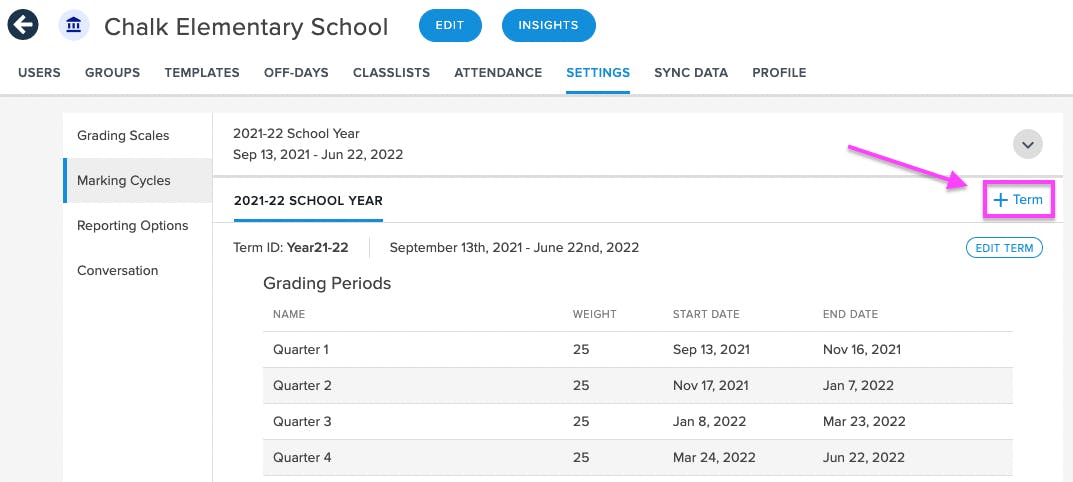 Step 2:
Enter the appropriate information for your current term but assign this new term a unique TermID.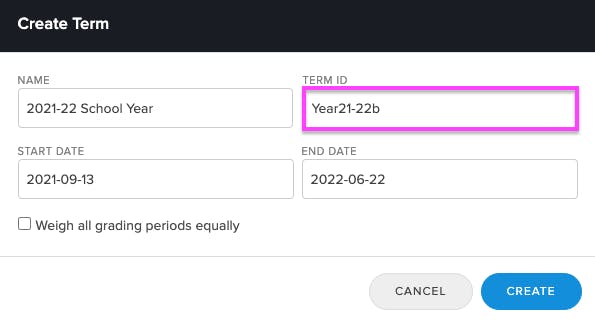 Click Create, then set up your grading periods with the new dates that you need to apply.

Step 3:
Navigate to the Sync Data tab, then download the latest Classlist CSV by clicking on the down arrow shown below.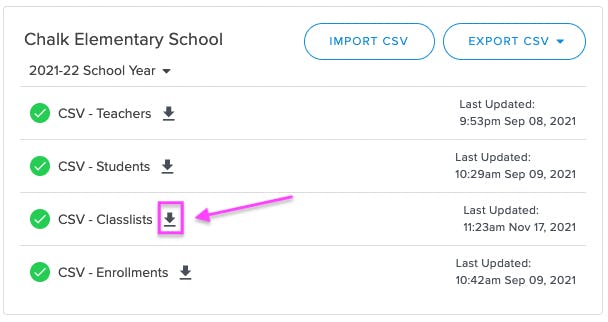 Step 4:
Open the Classlist CSV in a spreadsheet editor and enter the new TermID for all applicable classes that require the grading period change, then save/export the CSV when finished.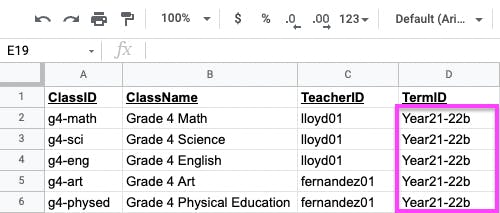 Step 5:
On the Sync Data page, click the Import CSV button and select your updated Classlist CSV. This will apply the grading period dates from the new TermID and trigger a grade recalculation for all teachers when the upload is completed.

Step 6 (Optional):
If you applied the new Term to all classlists for the school year, you may delete the previous Term as it would no longer be necessary. Only do this if you are certain that the Term is no longer in use for any classes.
To delete a Term, navigate to the Marking Cycles tab and click the Edit Term button for the Term you wish to delete.
In the following window, click Delete, then check the prompts to finish deleting the Term.