How do I create an online assessment?
This is part of our Assessment Solution. You will not have this option if you are a free user.
To create an online assessment, follow the steps below.
Creating an Assessment
Step 1:
Click on the + button on the top-right. You will notice 2 options:
Gradebook Entry
Online Assessment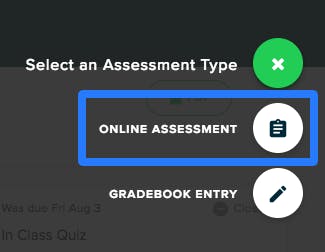 Step 2:
Click on the Online Assessment option to create an Online Assessment
Below are a few things to note in the assessment settings pop-up that appears.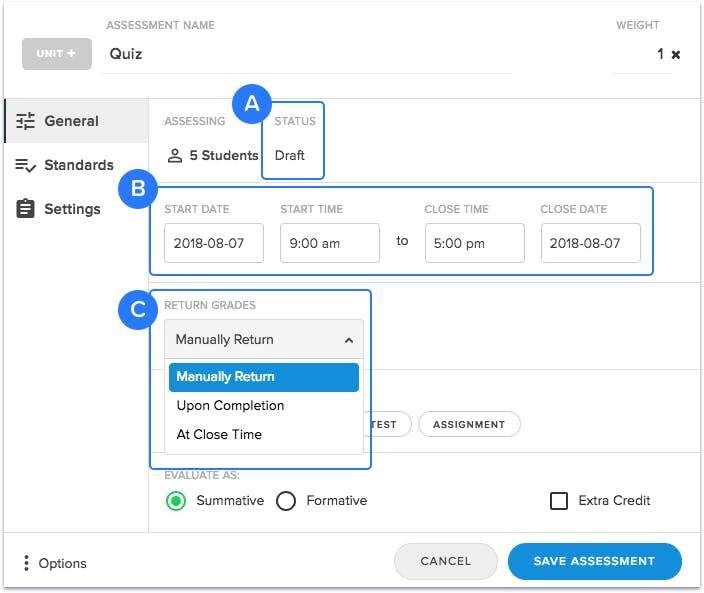 (a) Status: Indicates whether an assessment is a draft or published. An assessment remains a draft until it is published explicitly by a teacher. Students cannot view an assessment if the assessment is a draft.
(b) Start/Close Date & Time: A student can take an assessment between the Start Time and the Close Time. If late submissions are allowed, then the student can take and submit the assessment after the close time. An assessment is automatically scheduled to commence on the Start Date and Time only after an assessment has been published by a teacher.
Note: You can only change the Start and Close Dates and Times if it is a draft. If it is published, then the dates can only be changed before the Start Time. You will not be able to change the dates and times of an assessment after the Start Time once it is published. 
(c) Return Grades: There are 2 ways in which an assessment can be returned back to the student:
Return Manually: You have to manually take action to return the assessments to students.
Return Automatically: Allows Markboard to automatically return assessments back to students. You can set when Markboard auto-returns an assessment back to students by selecting one of the following options below:
Return Upon Completion: returns the assessment as soon as a student submits an attempt.
Return at Close Time: returns the assessment to all students once it has closed.
Note: Assessments with written response and file upload types of questions require manual grading. This is also the case when assessments are returned automatically. If responses for these question types are ungraded, then students will be informed that their grade is inaccurate.
What is being returned to my students?
The final grade (if all question types are have been graded and the grade value is accurate) and point(s) achieved on each question.
Their response on each question and the correct multiple-choice or true/false answers.
Comments on the assessment or individual questions.
Assessment is not available on mobile.
Assessment is not available on mobile.