How do I create a Teacher CSV?
This is for the Assessment Solution. You will not have this option if you are a free user.
Note: You will need to include the word Teacher in the name of the CSV file when you upload it. We highly recommend uploading all four CSVs at once when you initially upload data into Chalk to ease the teacher experience. Click here for information on how to save your file as a CSV.
The Teacher CSV will create teacher accounts in your school. Once accounts are created, emails will go out to the teachers on the list to log into their new Chalk accounts.
In the Teacher CSV file there are four different fields:
Two of these fields are Required Fields which must be included in the Teacher CSV
Two of these fields are Optional Fields which you don't have to include
Required Fields:
TeacherID: This is a unique code or number to identify an individual teacher.
Email: This is the email account that will be attached to the teacher's Chalk account. They will use it to log in, and receive all notifications to this email address.
Optional Fields:
If you don't want to use an optional field please make sure not to include the column header at all
FirstName: The teacher's first name.
LastName: The teacher's surname name.
Your Teacher CSV file should look similar to the image below: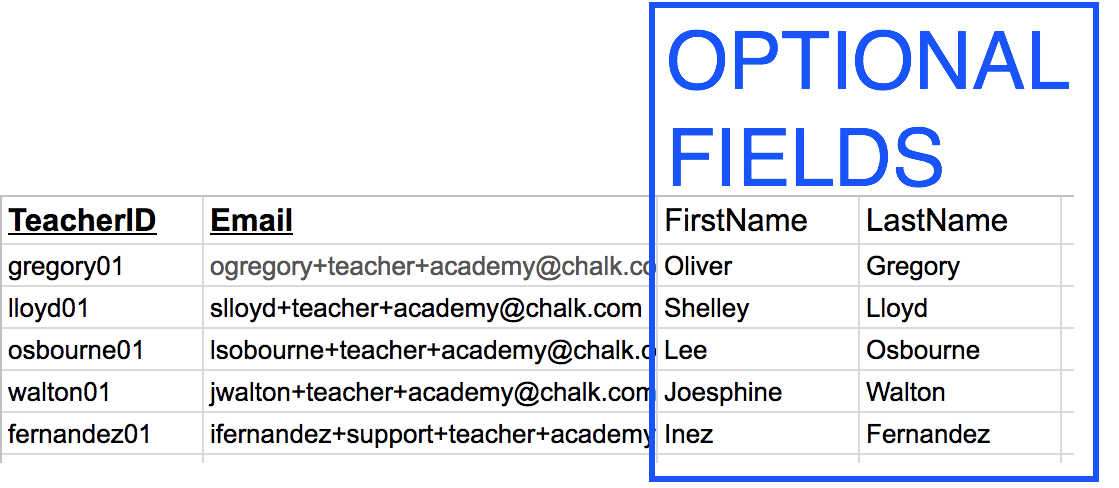 Click here to download a Sample Teacher Template.
Visit these articles on how to create the other three CSVs for your school: