How do I create terms within a school year for Assessment?
This is part of our Assessment Solution. You will not have this option if you are a free user.
Now that we have a School Year in place, your school may break the year up further into different terms. As a reminder, we define a term as the duration of time in which a class runs with the same students. This can either be for the entire school year or only part of the school year. 
Step 1:
From Settings, select Marking Cycles. Depending on what level of Admin you are, this will be either be on the menu on the left hand side, or along the top. You will see your School Year name and dates here. Select Add Term at the bottom of the page.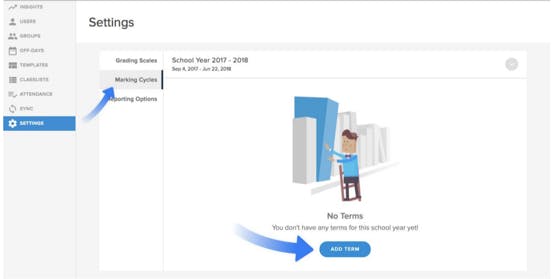 Note: If you are an admin of multiple schools, your screen will look like this:

Step 2:
Enter the Term Name, Term ID and start & end dates. Click Create, and you will be able to manage terms from the main page. Once your Terms are created, you can toggle between each of them to edit Grading Periods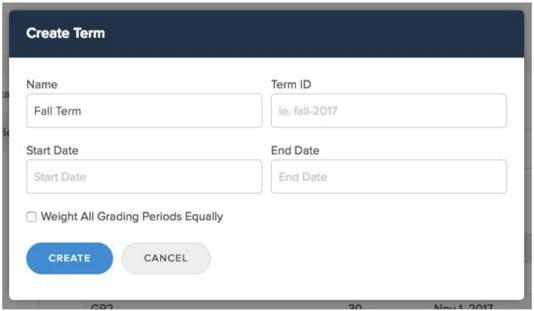 Important Note: It is possible for a given school to have multiple, overlapping Terms that accommodate both types of classes.
As an example, at Chalk Academy, a Biology class runs the entire year (from September-May), and a Dance class runs from September-December and starts up again January-May with different students. They are both in the same School Year, but Dance is term based, and so we will need to create Terms within Marking Cycles to accommodate this.
For Chalk Academy, there are some classes that will have the same students all year long as well as classes that are semester based. As such we will want to setup 3 Terms to accommodate all types of classes we have. The Terms we will create are as follows:
Term 1: Fall 2017 (September 1st, 2017 - December 21st, 2017) TermID = fall2017
Term 2: Winter 2018 (January 1st, 2018 - May 24th, 2018) TermID = winter2018
Term 3: 2017-2018 School Year (September 1st, 2017 - May 24th, 2018) TermID = 20172018
Assessment features are not available on mobile.
Assessment features are not available on mobile.