How do I publish an online assessment?
This is part of our Assessment Solution. You will not have this option if you are a free user.
This article will guide you on how to publish an assessment after you've completed building it. If you have yet to build your online assessment, click here. 
Note: Before publishing an assessment, be sure to check the following settings by clicking on the gear icon on the top-right:
Returning options
Number of attempts
Late permission

Follow the steps below to publish an assessment:
Step 1:
Click on the Publish button.

Step 2:
Schedule a timeframe in which you would like this assessment to be made available for your students. For example, if it's during class time you can set it to start at the beginning of class, and have it close at the end of class.
Step 3:
Once you are ready, click Publish.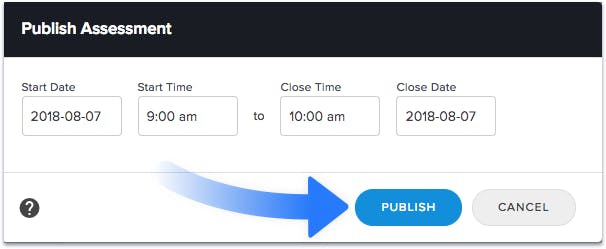 Note: Publishing an assessment will change the status of the assessment. For more information on assessment statuses click here. 
Assessment is not available on mobile.
Assessment is not available on mobile.