How do I save and share multiple lesson plans with Resources?
This article will show you how to share groups of lessons using resources. You can share lessons to another teacher's account or save them to your own Resources.
Note: You may only share if your school or team has a paid subscription with Chalk.
Step 1:
From the Day or Week Planner, click the Share button next to the date, then click Add to Resources.

Alternatively, you can click the Share button within the lesson editor, then click the Group of Lessons tab.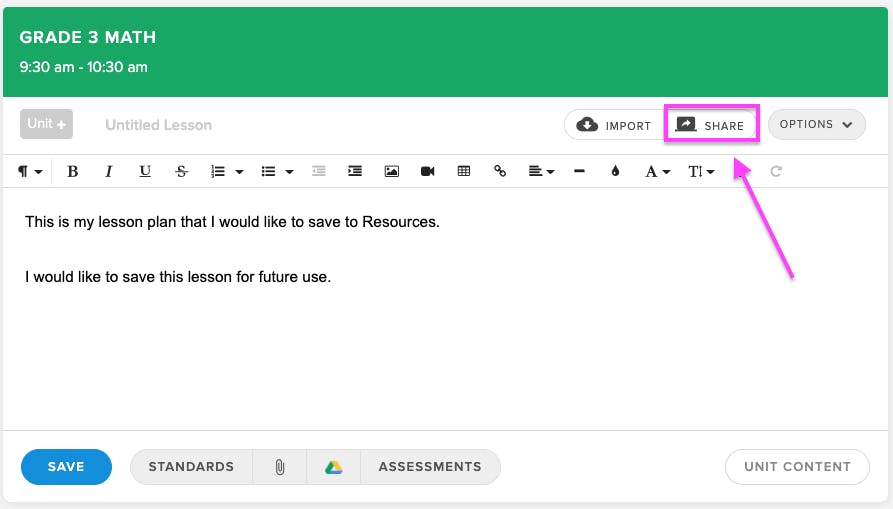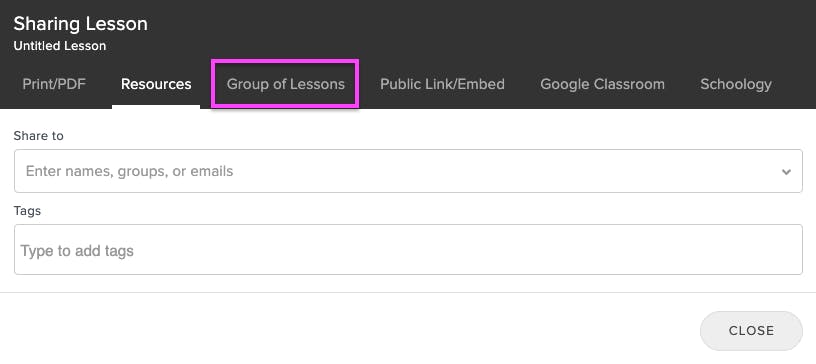 Step 2:
Select a class from the drop-down menu. After loading, you will see all of the lessons you have planned within the start and end dates selected. You can adjust these dates to include more lessons.
Create a name for your group of lesson.
Use the tick boxes beside each lesson title to select which lessons to include in the shared group.
Click Share to proceed to the next step.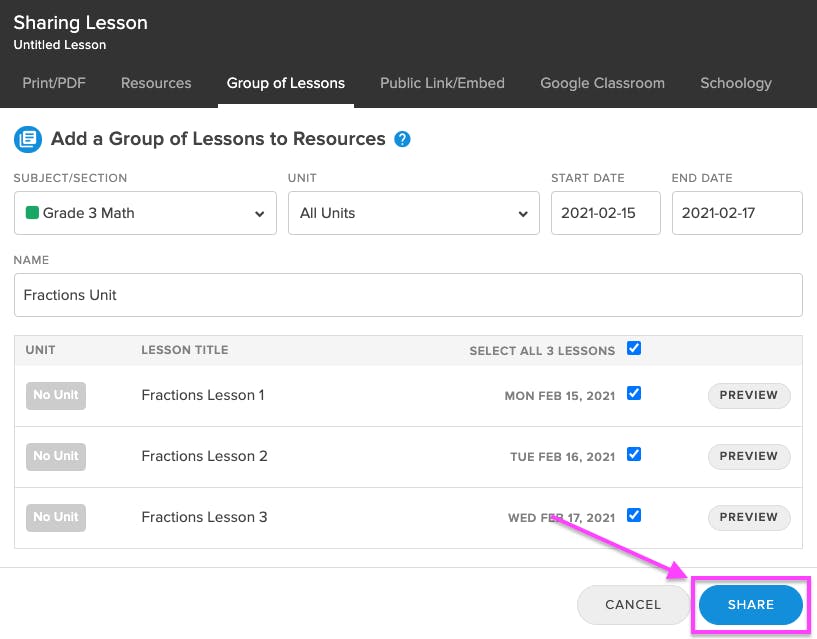 Step 3:
Type the names, groups, or email addresses of the people you would like to share your lesson with. If the teacher you share with is part of your school or Chalk Team, the lesson will be sent to their Resources. If you are sharing with yourself, the lessons will be sent to your Resources.
You can also enter the name of your school, group or team into the sharing field to share the lesson with all members. The lessons would be shared with all active members, so you won't need to share them again with any team members who join your team in the future.
If you'd like to save them for yourself, simply simply click the Add to Resources button in the bottom-left corner of the window.

Helpful Tip: For easy organizing within Resources, add tags to your lessons before sharing. You and your colleagues will be able to search by tags to effectively sort your lessons. You can edit the tags on your lesson group at any time by editing your shared lessons in Resources.

Step 4:
Click Share to send the lesson plans and you're done!

This feature is not yet available on mobile.
This feature is not yet available on mobile.