How do I set user permissions for the Assessment solution?
This is part of our Assessment Solution. You will not have this option if you are a free user.
If you're looking to make others within your institution Admins, click on the name and/or email of the account from the list on the User tab to be brought to that account permissions page. This can only be done once teachers have been added through CSV uploading. Here you can select Admin, Lesson Feedback, Markboard Oversight, Importer Exporter, and Support Teacher.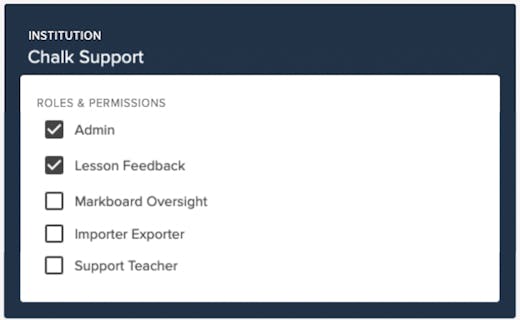 Admin:  This permission will enable the Admin app for this account allowing this user to see and access Admin from both the Dashboard and the main navigation menu.
Lesson Feedback: This setting will allow admins to view teacher accounts.
Markboard Oversight: This permission is only available if the account has Admin and Lesson Feedback enabled, and will allow admins to view and edit gradebook data in teacher accounts.
Importer Exporter: This permission allows an admin to upload and download CSVs from Chalk.
Support Teacher: Support Teacher allows teachers to see student insights in the gradebook without editing privileges.