How do I set off-days for my institution?
This is part of our Chalk Solutions. You will not have this option if you are a free user.
Off-Days block out a day in Chalk's Planboard lesson planner so lessons can't be created that day. These are to reflect days such as PD-Days, Holidays, unexpected days off due to weather, etc.
Note: As an individual teacher it is possible to create these for their own Planboard account. To see how Teachers can edit their own off-days, click here. However, an administrator can make teacher's lives even easier by setting up Off-Days for them!
Step 1:
Start by selecting the Off-Days option from the Admin app.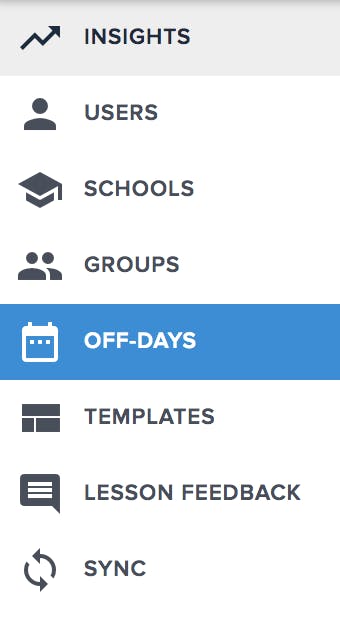 Step 2:
From here you have two different options to create Off-Days:

Option 1: Add Holidays
This option lets you select from pre-existing national holidays by Country for a specific date range: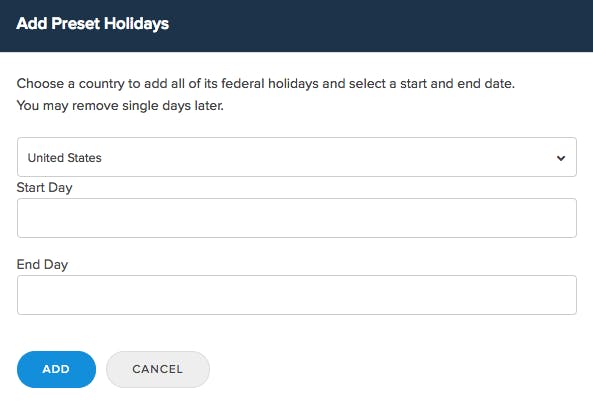 Option 2: Add Off-Day
This option lets you create an Off-Day with a custom reason (for example, Professional Development), start date and end date: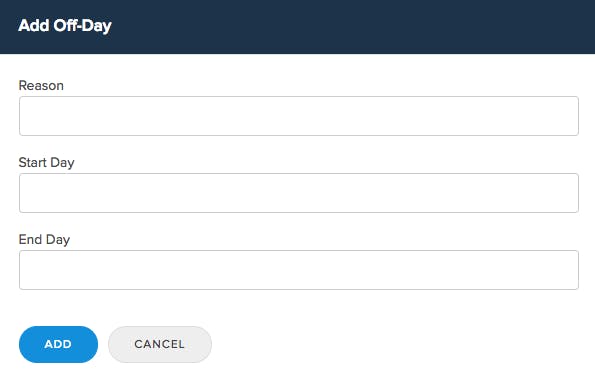 How to Edit Off-Days
Once an Off-Day has been created, whether it was created using Add Off-Days OR Add Holidays, you can edit it by selecting it from the list:

After clicking on an Off-Day you can edit the Reason, Start Day, and End Day as needed: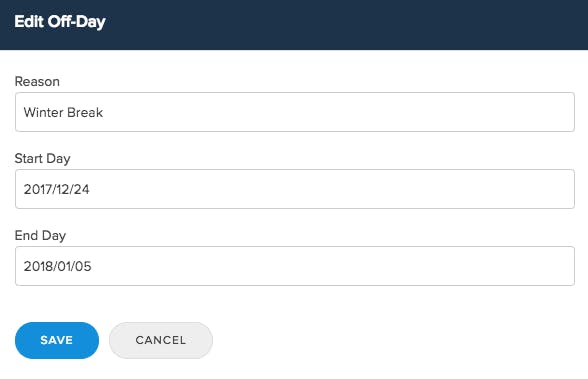 Example: after adding all national holidays select Christmas Day to edit. Then, adjust the Reason to Winter Break and change the start and end dates to reflect the whole break. This will ensure this time is blocked out for teachers automatically.
How to Remove Off-Days
To remove an Off-Day, hover over it from the list and select the Remove action:

Note: Removing Off-Days directly impacts Planboard accounts for the institution. It can cause lessons to move back to this date if lessons have been planned ahead. Be aware of this before you make any major changes to Off-Days.
Admin is not yet available for mobile.
Admin is not yet available for mobile.