How do I publicly share a curriculum map?
This is part of our Curriculum Solution. You will not have this option if you are a free user.
Sometimes you will need to share your curriculum maps with someone in your district who does not have a Curriculum & Instruction account. This article is a quick guide on how to share a public link to published curriculum maps.
Step 1:
You will first need to make sure that your curriculum map has been published and made public by your administrator. If this is the case, you will see a date listed in the "Published Date" column on the curriculum maps list, and a globe icon in the "Public" column.

You can also see a globe icon while editing a map if the curriculum map has been made public for your school.

Step 2:
Select the map from the curriculum maps list, then click the three-dot menu in the details panel that appears on the right-hand side. Click Share from the options in the drop-down menu.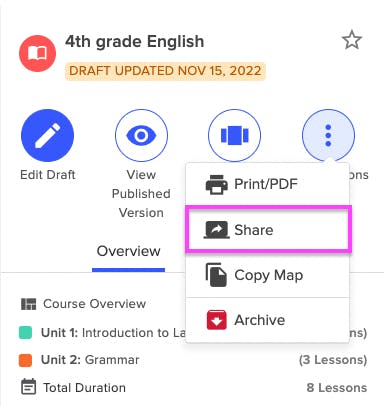 Step 3:
From the window that appears, click the Copy button to copy the URL to your clipboard. Anyone you share this link to will be able to access a read-only version of the curriculum map containing the fields and visibility settings set by your administrator.

Note: If you do not see a shareable link in this window, you will need to contact your administrator to request that the map is made public. Only users with the Public Site Manager role are able to adjust public curriculum site settings.