How do I sign up for Chalk Teams?
Chalk Teams is an offering aimed at teaching teams of 2-10 people to facilitate sharing and collaboration of lesson plans in Chalk. Members of a Chalk Team will have access to all Chalk Gold features, as well as being able to share lessons with colleagues through Resources, leave comments on shared lessons, import shared lessons directly into their planner, and build a collection of shared resources in Chalk. You will also have access to personalized group training with your Chalk Concierge.
This article will show you how to create a new Chalk Team. For instructions on how to join an existing Chalk Team, read this support article.
How much does Chalk Teams cost?
Chalk Teams costs $9/month or $99/year USD per seat (team member slot). Teams is priced at the same level as an individual Gold subscription, but scaled to the number of available team member seats. Payment information is handled by the member with the Team Lead role, which you will automatically have upon creating a new team.
If I'm already subscribed to Chalk Gold, what happens when I upgrade to Teams?
Upon upgrading to Teams, your current Gold subscription will be immediately cancelled and the remainder will be refunded. Creating a new Chalk Team is treated as a separate transaction, so you will need to re-enter payment information.
Step 1:
Click your profile picture in the top-right corner, then click Account Settings.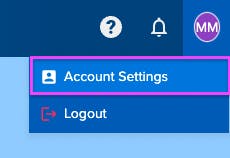 Step 2:
Click on the Billing tab near the top of the page.

Step 3:
Scroll down to the table featuring the available plans in Chalk. Under the "Teaching Teams" column, click Create a Team.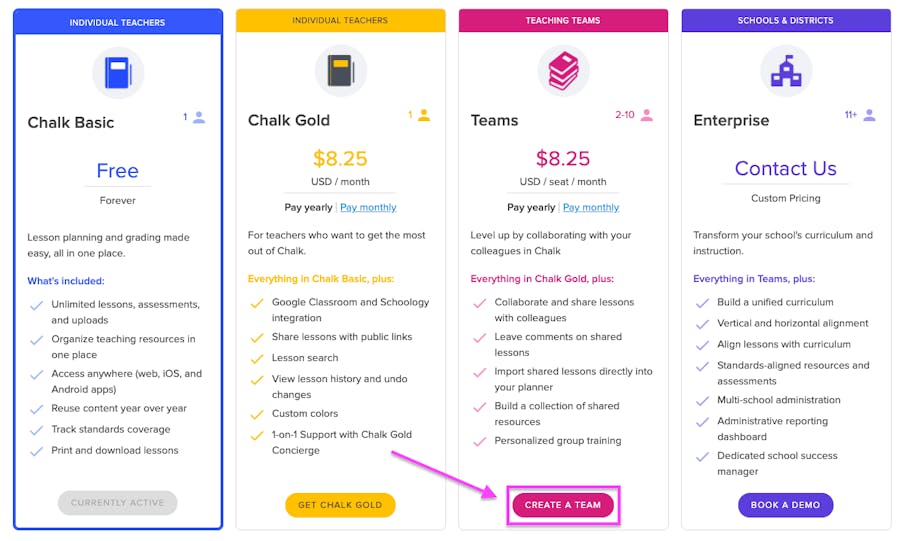 Step 4:
Enter a name for your teaching team and select the number of seats you wish to purchase for your team. You will be billed for the number of available seats in your teaching team, not for the number of active users. You can make adjustments to your team size after creating your Chalk Team.

Note: Chalk Teams is intended for groups of 2-10 teachers. For larger teams, please book a demo for a personalized walkthrough of the Chalk platform.
Step 5:
Select either the annual or monthly billing option. Please note that annual billing is charged upon creating your Chalk Team, and the next bill will be automatically charged one year after your subscription sign-up date.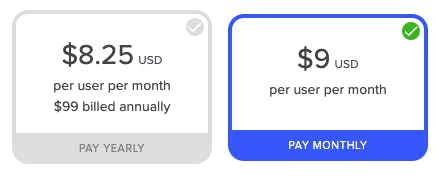 Step 6:
Enter your credit card information below, including the expiry date and card verification code.
If you have received a promo code from Chalk or through a referral, you can enter it into the field and click Apply.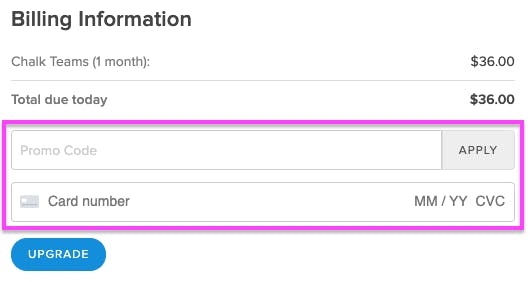 Click Upgrade when finished.
Step 7:
Success! Your Chalk Team has been created!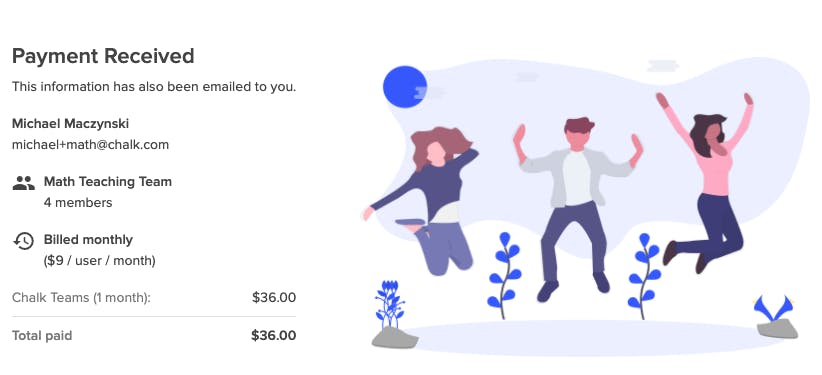 At the bottom of the page, you can enter the emails of the colleagues you wish to invite to your Chalk Team and click Send Invitations. You can also choose to do this later from the Billing page, as described in this support article.