How do I star curriculum maps and map comparisons for quick access?
This is part of our Curriculum Solution. You will not have this option if you are a free user.
Rather than searching through the full list of curriculum maps for your institution, it can be useful to create a shortlist of maps that you frequently edit or access.
This support article will show you how to "star" or bookmark curriculum maps and map comparisons for quick access from your Starred tab in Curriculum.
For Curriculum Maps:
To add a curriculum map to your list of starred maps from the full list of institution maps, first click on the title of the map to display the right-side option panel.

You will see the star icon to the right of the map title. Simply click the star icon once to star that map, or click the icon again to remove the star.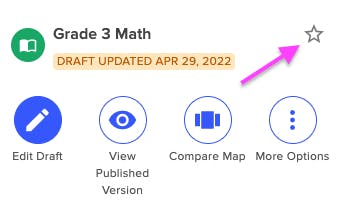 When viewing a curriculum map, you can find the star icon to the right of the map title at the top of the page.

For Map Comparisons:
From the map comparison view, add all of the necessary maps you wish to include for the comparison, then click on the star icon in the top-right corner of the page.

You will be asked to enter a name for this comparison. We recommend including the subject and grade levels of the included maps. Click Save when you have finished entering the title.

Note: The starred item will save all of the maps that you are viewing for this comparison, but will not save any filters or search terms as you would find on the comparison public link.
Accessing the Starred Tab
From the Curriculum app, click the Starred tab in the panel on the left-hand side to view the list of starred items for your account.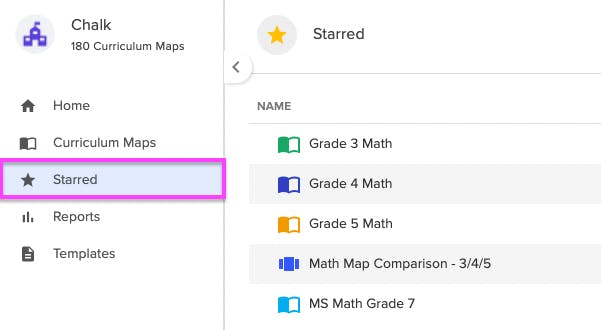 When you hover your cursor over the title of your starred item, you will see a View button that you can click to quickly access your curriculum map or map comparison.

You can also click on a title to view the details tab on the right-hand side. From here you can click the star icon to remove this item from your Starred tab.