How can I view student progress?
Once you've created assessments, and input grades and observations, you can see how students are progressing by clicking on their name on the Students tab. This will help you to determine if a student needs additional support, shows you unsubmitted assessments, and gives you a quick snapshot of overall grades.
Step 1:
Open the Gradebook menu at the top of the page, then click Students.
Step 2:
Select the class you'd like to view from the drop-down selector in the top-left corner, then click on the name of the student you wish to view. Here, you'll be able to see the student's overall grade, observations and individual assessment marks.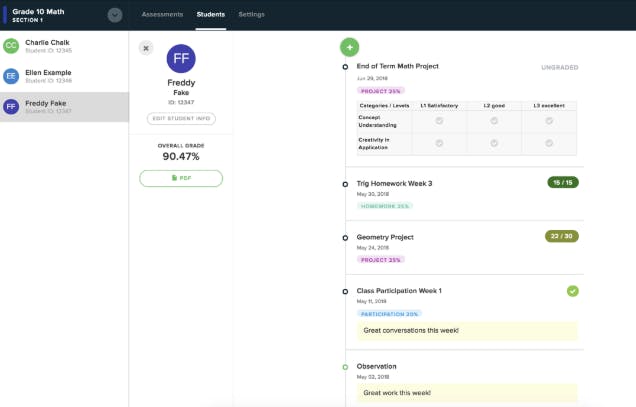 Clicking on any of these from the timeline will allow you to make quick edits directly from this page.
You can also use the filter settings on the right to adjust what you're looking at. For example, you can filter down to looking at a specific category or look only at unsubmitted assessments for a specific student.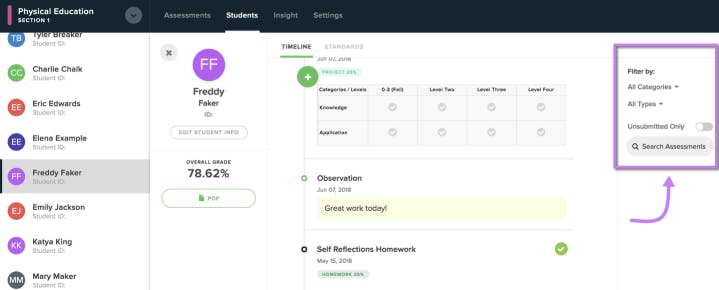 You can create a PDF of this information by clicking the PDF button under the overall grade. Reports can be pulled as single class reports, or as multiple classes that you teach. Reports can be printed or downloaded for sharing.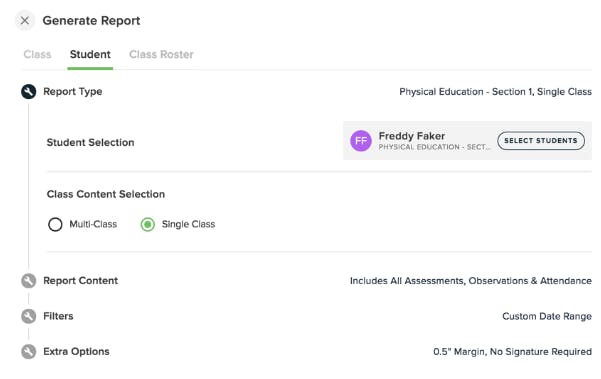 Note: You will not be able to see how a student is doing across all their subjects if you don't teach them all subjects. However, if your school subscribes to the Assessment Solution, your admin will be able to provide those reports.
Unfortunately, this function is not yet available on mobile. 
Unfortunately, this function is not yet available on mobile.