Assessment for Admins
Chapter 5: Insights & Progress Reports
The Assessment Solution will help your school shift from outdated evaluation to true real-time assessment strategies. Support learning growth for students with standards-based grading, online assessments and transparency with parents through student ePortfolios that capture both formative and summative assessments.
This learning guide will help familiarize you with the features of the Assessment solution for users with Administrator privileges. If you want to learn how to take advantage of this solution as a teacher, please see our Assessment for Teachers guide.
While this guide will cover many of the features available, please refer to our extensive support articles for specific questions or reach out to us at support@chalk.com or through our Live Chat service (available Monday through Friday, 8am-4pm EST).
The following chapter of our learning guide will go over how to:
Make use of the Insights tab
Print student progress reports
View individual student progress
Once grades start to be inputted into the Gradebook, you will be able to track student progress through Admin. This will allow you to better assist students, and be able to track progression through the year, and see improvements.
How do I print progress reports?
This is part of our Assessment Solution. You will not have this option if you are a free user.
Admins can help teachers by printing out all the Student Report Cards or Progress Reports in bulk. This will create a PDF file of all the reports and send them to the email attached to your Chalk account. This article will guide you through the steps and filtering options to do so! 
Step 1:
Select Users in your Admin Menu.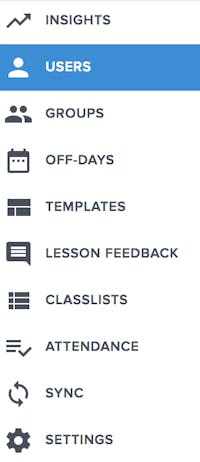 Note: If you have multiple schools make sure you select Schools on the left, then select the school before you follow the above step
Step 2: 
Select the Students tab.

Step 3: 
Select the Generate Report button.

Step 4:
Filter the Report Type for the group of reports you would like to print. There are for Report Type grouping options: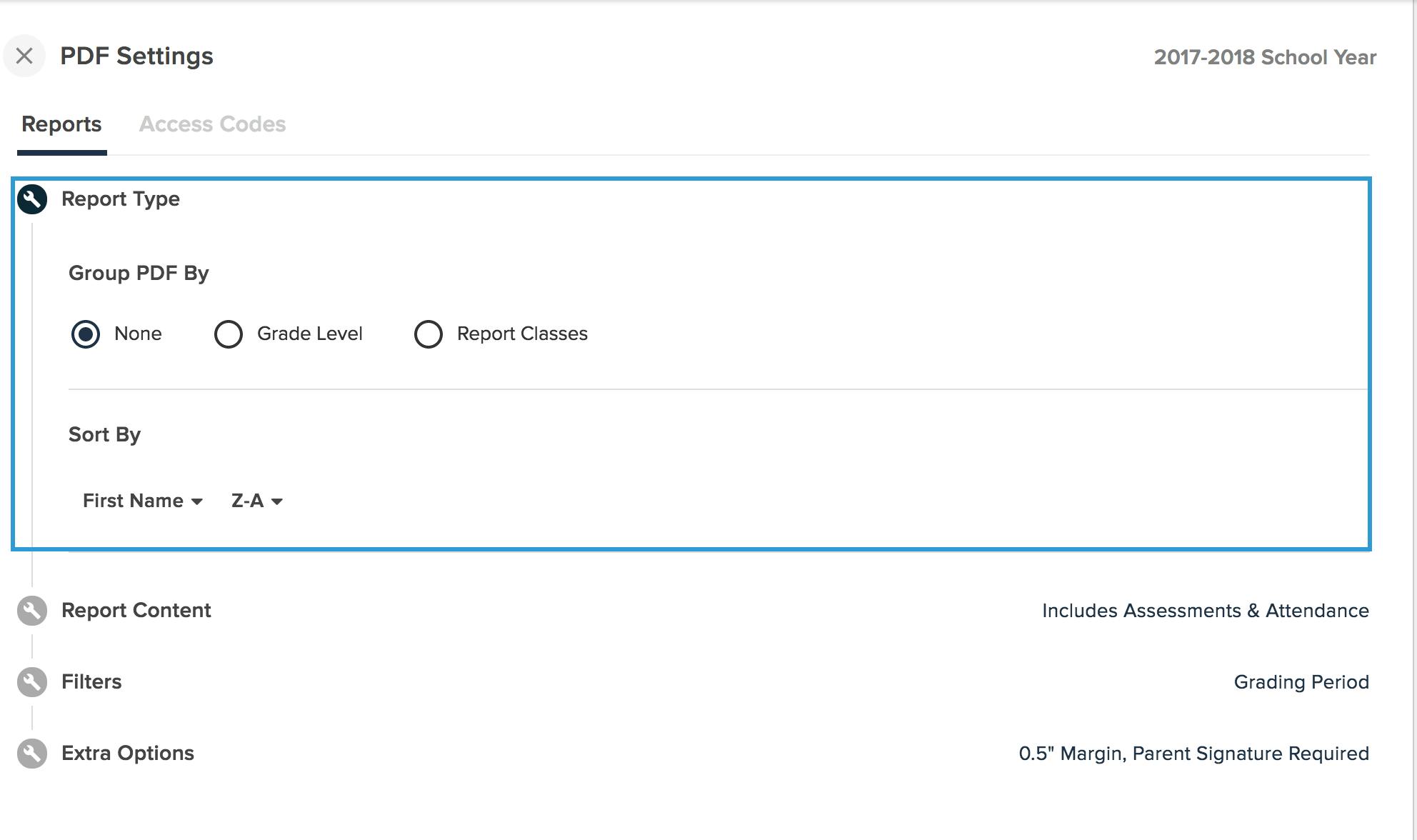 Group PDF by None: This is the default, if you select this option you will get ONE PDF that has ALL students in the selected school.
Group PDF by Grade Level: This will group students by Grade level so you have a PDF for each grade level. This depends on you having setup Grade Levels in your Student CSV. Go to the Sync page in Admin and download the Student CSV to see if you have this setup
Group PDF by Report Classes: This will group students by the Reporting Classes you have setup on your Classlists CSV. This depends on you having setup Reporting Classes on the Classlists CSV. Go to the Sync page in Admin and download the Classlists CSV to see if you have this setup (i.e. have Reporting Class set to 'True' for some of your classes)
You can also sort the students how you see fit. Sorting applies to all PDF's generated.
Step 5: 
Set your Report Content filter choices. There are 2 options to toggle on to include in the reports: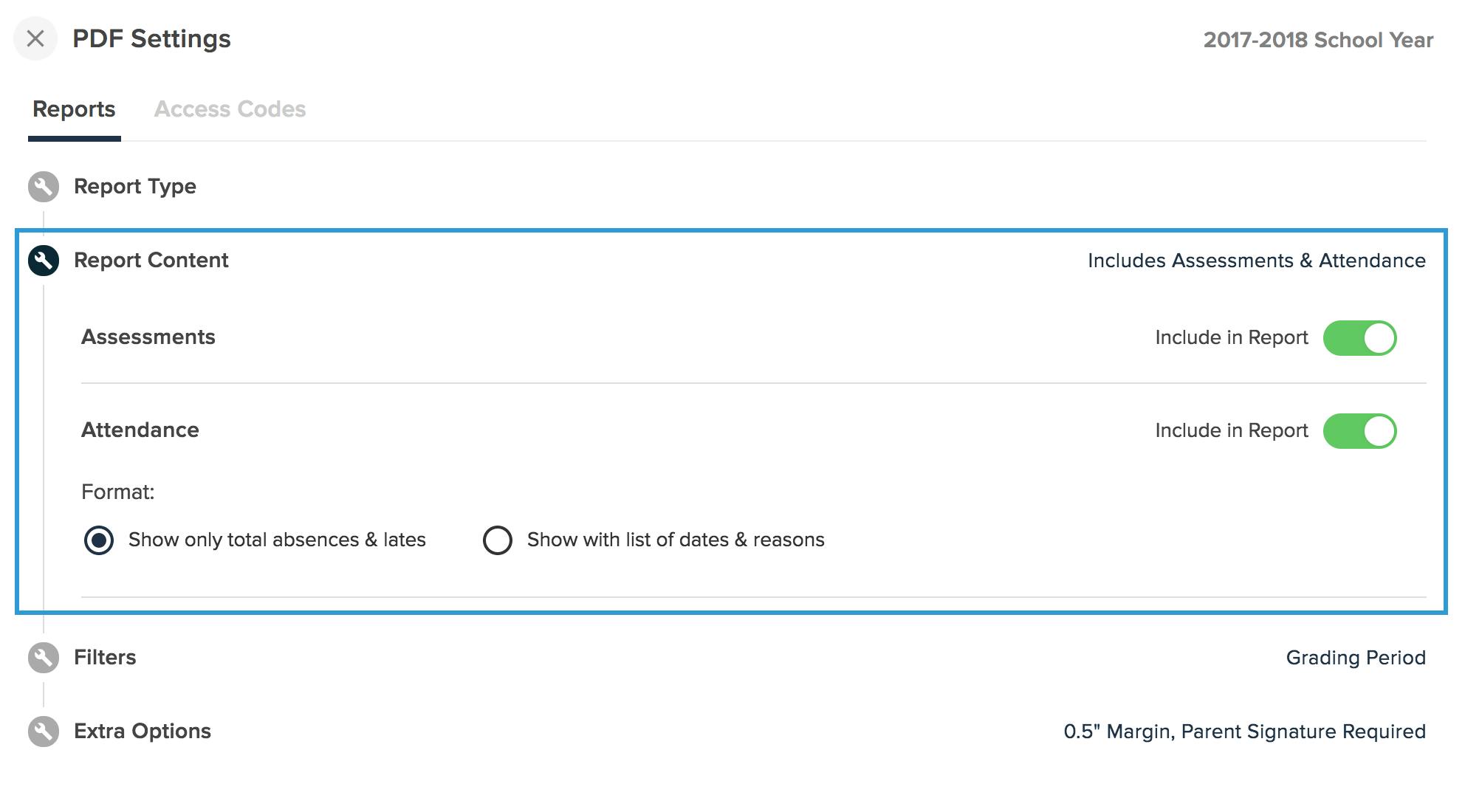 Assessments: Overall grades for the classes will always print, but if you toggle on this option, you will be choosing to include all the graded assessments in a class as well.
Attendance: Toggling this option on will allow you to include the student's attendance record. There are also options to include a high level summary or a detailed list for each class' attendance records. 
Step 6:
Select the filters to choose what the Report should cover. You can select any of the Terms, Grading Periods, or Reporting Groups that are set up for your school. If you want to generate a cross-term report, choose All Terms to see all of the grading periods and reporting groups available in your school year.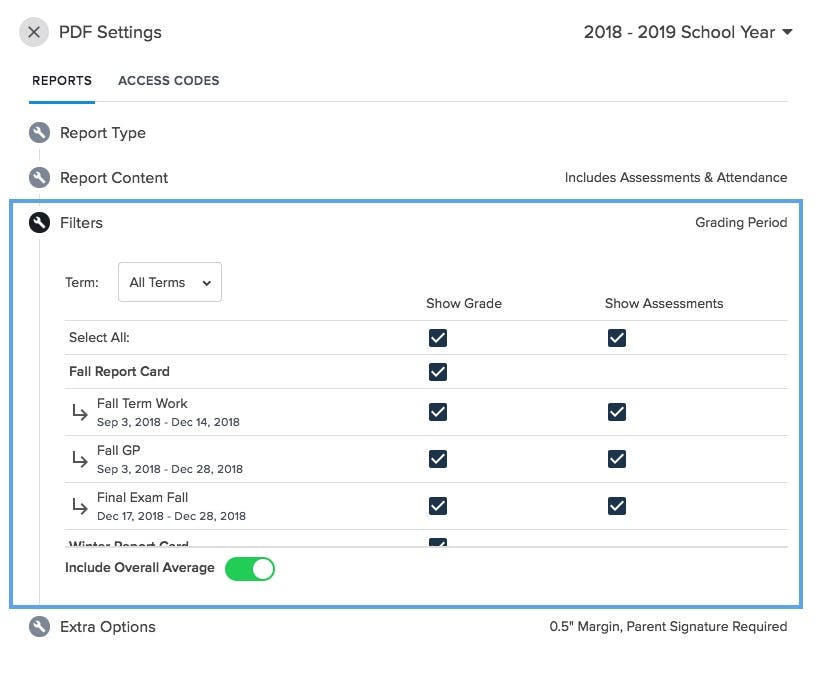 Note: Refer to Lesson 2 of the Assessment Learning Guide for more information on how to set up your School Year.
Step 7:
Under the Extra Options filter customize the margins of the page or add or remove the Parent Signature option.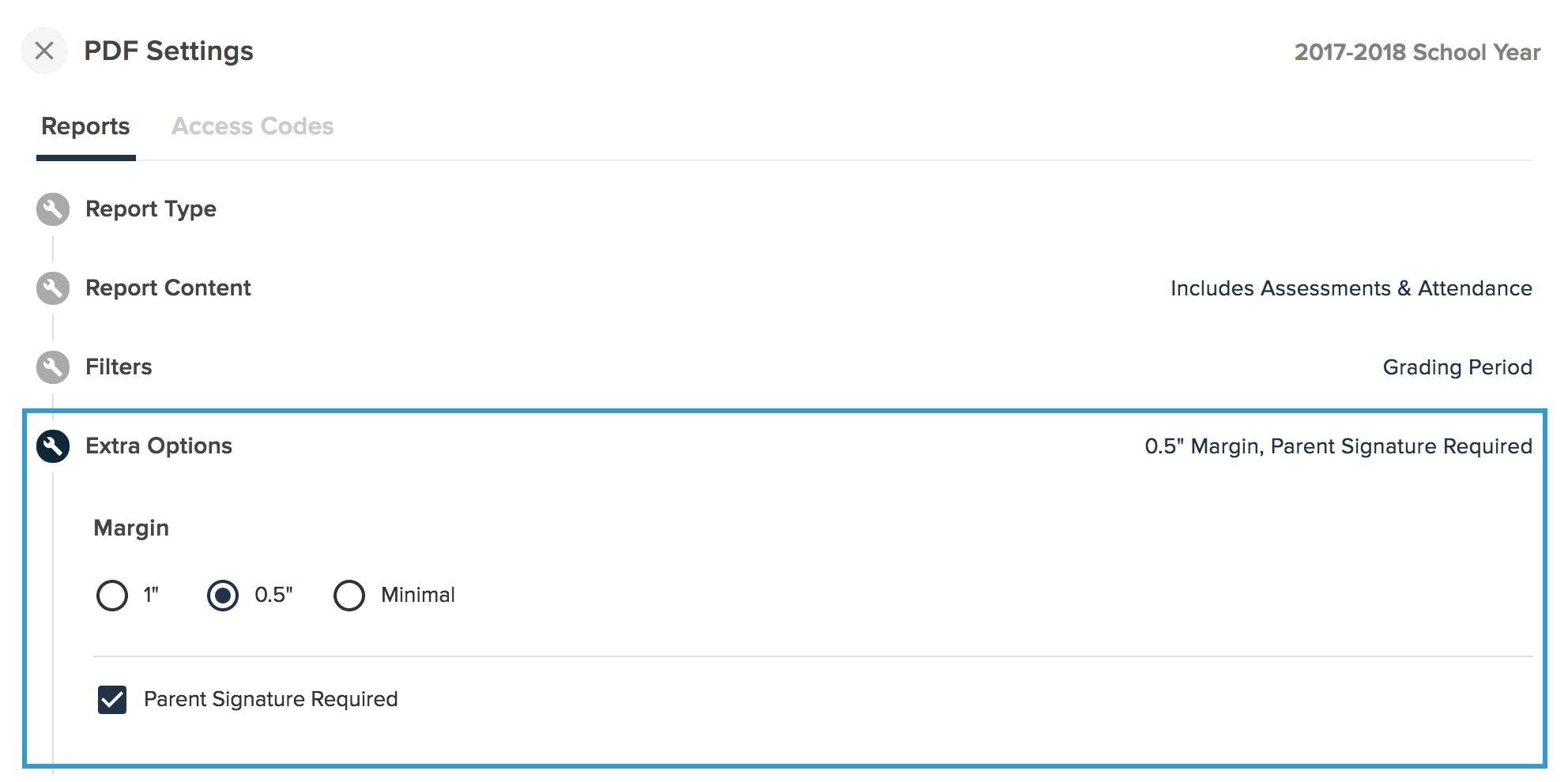 Step 8:
Select the Create PDF button. The PDF file with all of the Progress Reports will be sent to the email attached to your Chalk account. 

Note: This process can take up to an hour depending how many students are in your school. Be sure to give yourself plenty of time before you need to print the reports. 
Assessment is not available on mobile.
Assessment is not available on mobile.
How do I view individual student insights?
To look at a single student, you can access this by clicking on a specific student's name from the list. This will bring up a student summary snapshot, shown in the screenshot below, where you will be able to see a student's progress through all their classes, as well as an in-depth look at assessments and attendance.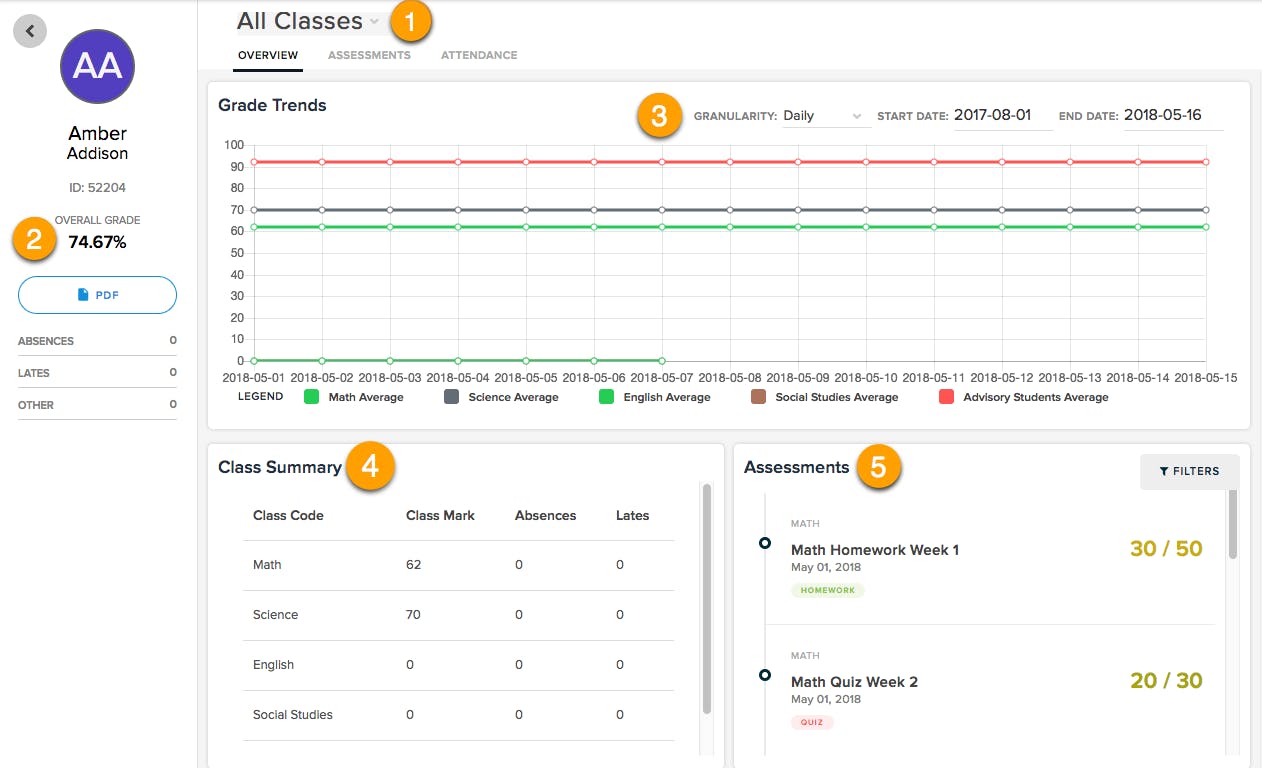 For a general overview, the numbered sections in the screenshot above are explained in the following list:
You can see overall of all classes this student is in, or individual classes.
From this side panel, you can see overall grade and absences, as well as being able to print this report as a PDF
Date ranges and views can be changed, based on preferences
Class Summary breaks down marks and absences based on class
Assessments can be filtered based on subject, category and unsubmitted work.