Curriculum for Creators & Publishers
Chapter 4: Connecting to the Planner
Curriculum allows you to create organized unit plans in a centralized and collaborative way. Ensure alignment with multiple standards in your curriculum design across buildings and classrooms, and personalize your classroom instruction for outcome based education.
This learning guide will help familiarize you with the features of the Curriculum solution for users with Creator, Publisher and Viewer privileges.
While this guide will cover many of the features available, please refer to our extensive support articles for specific questions or reach out to us at support@chalk.com or through our Live Chat service (available Monday through Friday, 8am-4pm EST).
This chapter is specific for teachers within schools who have subscribed to both our Curriculum and Instruction solutions. Teachers within an institution with both Curriculum and Instruction will be able to assign curriculum maps to their classes within the lesson planner, allowing units to be automatically assigned to lessons in order to set pacing as well as link content from unit maps directly to their lesson plans. For more information about our Instruction solution, click here.
The following chapter of our learning guide will go over how to:
Link curriculum map content to your lessons
Compare your lesson schedule with the curriculum pacing guide
How do I link my curriculum map to a class in my lesson planner?
This is part of our Curriculum & Instruction Solution. You will not have this option if you are a free user.
Now that you've published your curriculum map, you're ready to connect your map to your lesson planner. This article will walk through how to connect your map to a class in the planner, as well as the different options you have when bringing content from the curriculum map into your lesson plans.
Step 1:
Open the Lessons menu at the top of the page, then click Timetable.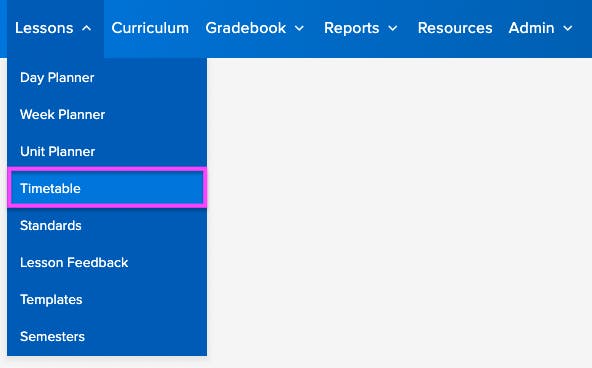 Step 2:
Hover your cursor over the class you would like to edit and click the gear icon that appears.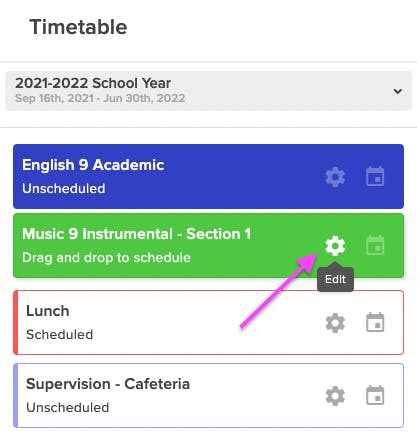 Step 3:
In the following window, click Show Advanced Options, then click the Curriculum tab.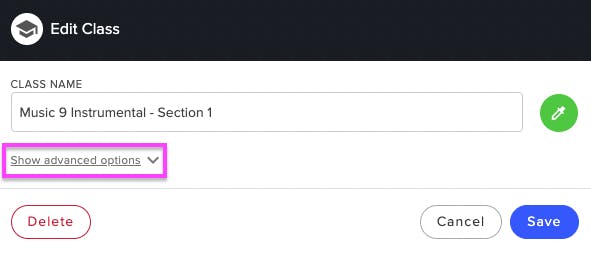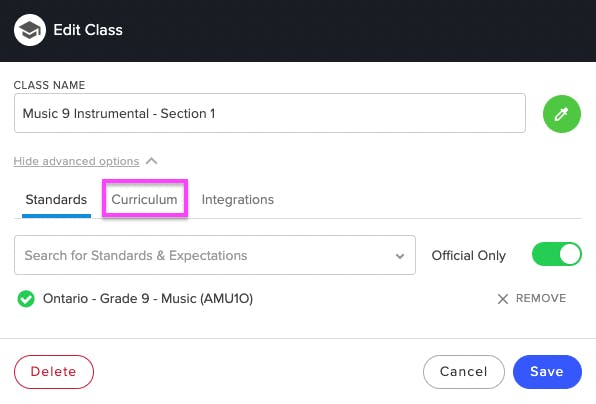 Step 4:
Click the Add a Curriculum Map button.

Note: This button will not work if you have not scheduled this class on your timetable. Click here for more information on how to set up your timetable. 
You will be attaching and scheduling the units of a curriculum map to a class in your planner, so you will want to ensure that there are no units already attached to the time period you wish the units to start. (Generally you will be connecting a map at the beginning of a school year, so this shouldn't be an issue!)
To check that your units are available, navigate to the Week Planner and check that the Unit Tags are free for the class that you want to add a curriculum map to. You can do this by clicking on the Unit Tags to show if they are blank, and therefore free.
Step 5:
Use the search bar at the top of the pop-up to look for the map name or the tags associated with the map. You can then confirm it is the map you are looking for by selecting it from the list and looking at the attached Standards and Units that appear on the right. Select the Next button to assign this map to your class.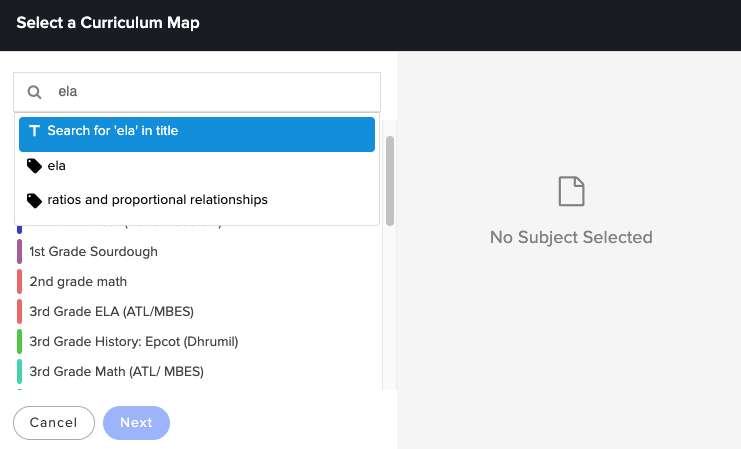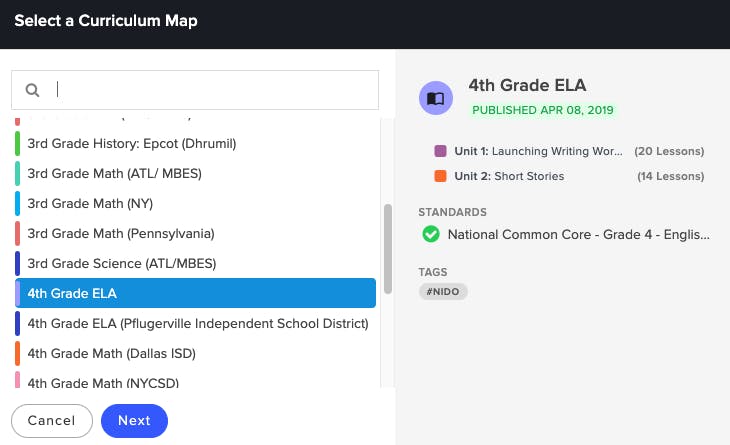 Step 6:
You will now need to schedule your units. This will link units to your lessons according to your schedule, giving you easy access to unit content from your lessons while you are planning.
Select the date you would like to start from.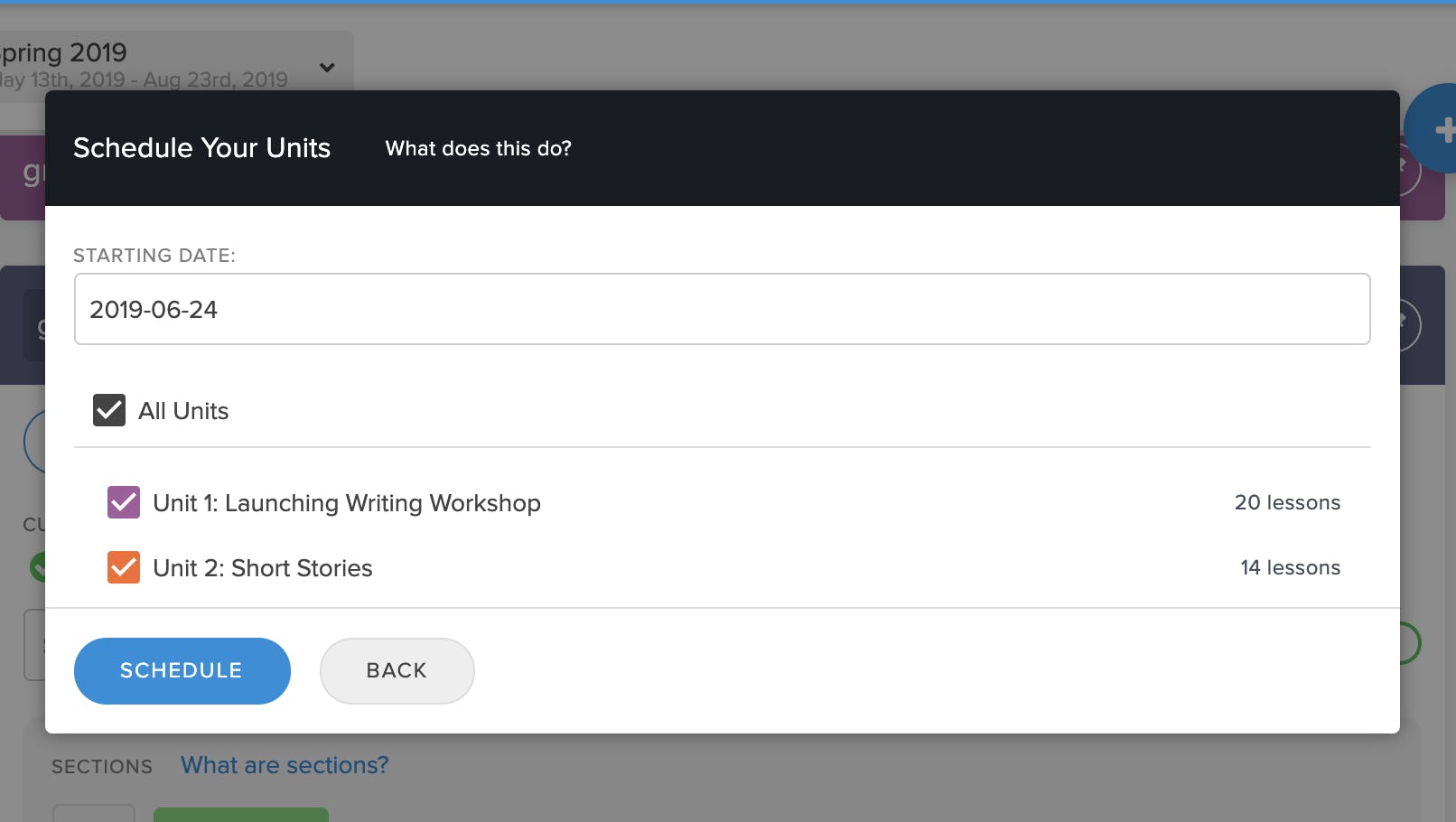 Once you have chosen your units, click on the Schedule button.
Note: You can select all of the units, or pick just the specific units that you want to connect to your planner starting on the date you choose. If you previously had units attached to your lessons this will overwrite all existing units and replace them. 
Unfortunately, this feature is not yet available on mobile.
Unfortunately, this feature is not yet available on mobile.
How do I add unit content to a lesson?
Once your curriculum map has been attached and scheduled for your classes, you can import content from the units directly into your lessons.
Step 1:
Within the lesson editor, click the Unit Content button. You will not be able to click this button if you don't have a unit assigned to your lesson.

Step 2:
Clicking that button will trigger a popup window with your resources that you have assigned for that unit. You can choose to copy and paste the content from any field of your curriculum unit into your lesson. We've made it easier for you to add the content to top or bottom of a lesson, or add it to your cursor.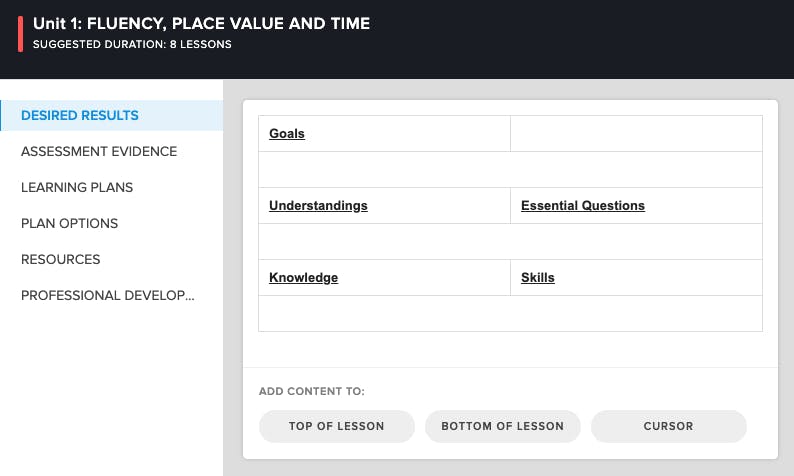 Step 3:
You can also quickly access standards assigned to the unit by clicking on the Standards button in the lesson editor like you would for any other standards. Lessons with a unit assigned to them will have unit level standards listed first. Like so:  

What is a pacing guide?
This is part of our Curriculum Solution. You will not have this option if you are a free user.
Curriculum allows you to generate an intended pacing guide for your curriculum maps. This will allow you to map each units' duration to a school year calendar to see what the timeline of the course will be. The pacing guide can also be a helpful piece of collateral for teachers in order to ensure that they are aligned with the suggested unit pacing.
For teachers, a pacing guide can help inform if your scheduled lessons are on track with the intended unit durations in the curriculum. Essentially, it will give you a sense of when and for how long a certain unit should be taught so that you can ensure that you are covering through all the units within a given school year or semester.
For more information on how to do this, take a look at the following articles: 
How do I view a pacing guide for a course that I teach?
This is part of our Curriculum Solution. You will not have this option if you are a free user.
For teachers, a pacing guide can help inform if your scheduled lessons are on track with the intended unit durations in Curriculum.
Please make sure that you have already linked your class to the appropriate curriculum map. To learn how, click here.
Step 1:
Navigate to the "Month" tab in the lesson planner.

Step 2:
From the list of classes on the left-hand sidebar, click on "View Pacing"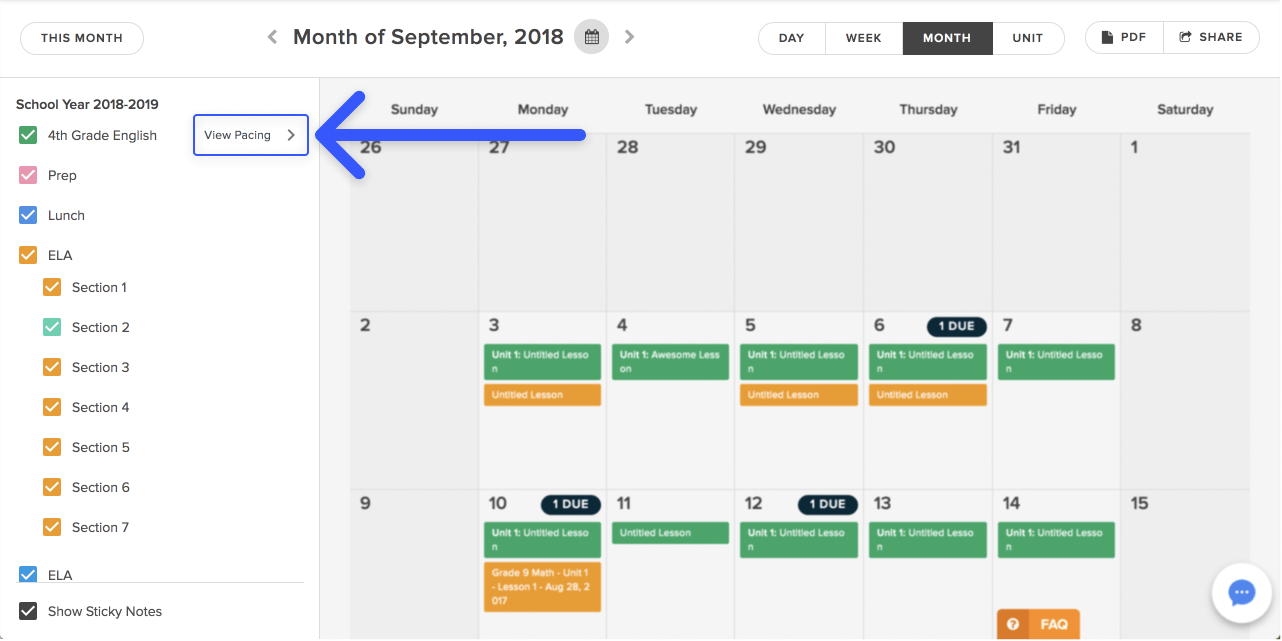 Step 3:
From this view, you will be able to see the unit pacing information from either: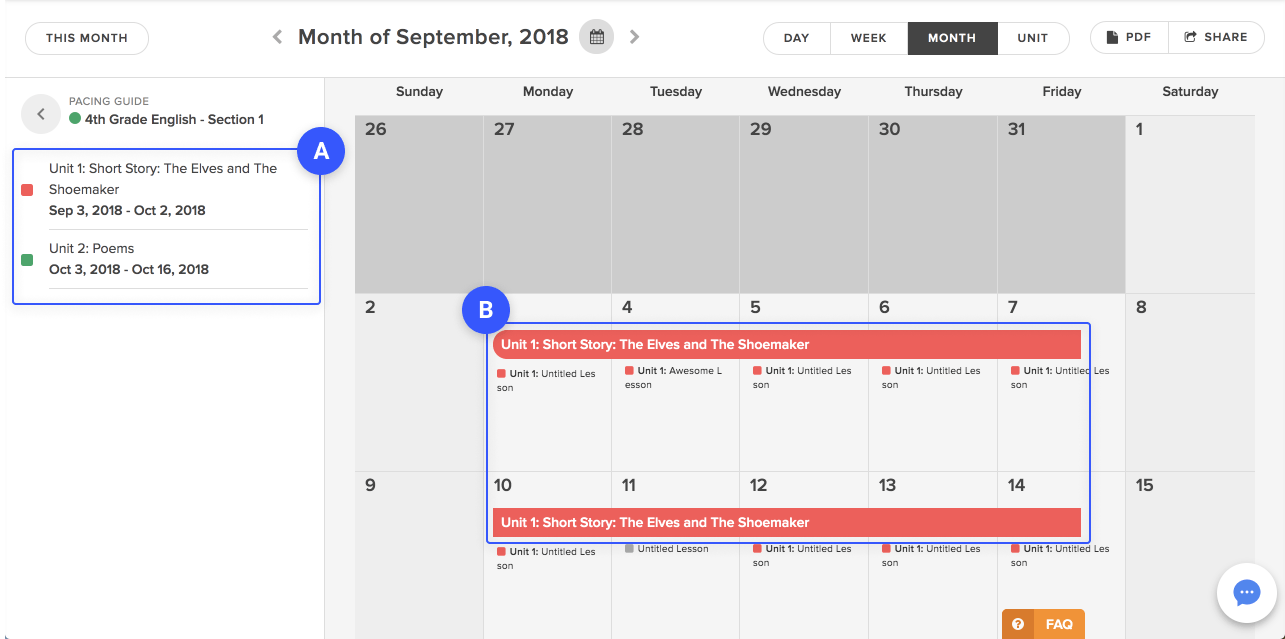 A) The left-hand sidebar, where you can view all the units for the class and the associated start and end date ranges for each of them.
B) Within the calendar as represented by the coloured horizontal bars. Hover over it to see the suggested start & end date range for that unit.