Markboard Guide
Chapter 1: Setup For Markboard
Markboard brings both summative and formative assessment to your students. Get real-time insights into your students' learning progress to provide the best feedback. Best of all, it's free for individual teachers.
This learning guide will help familiarize you with the features of Chalk's Markboard app. While this guide will cover many of the features available, please refer to our extensive support articles for specific questions or reach out to us at support@chalk.com or through our in-app Live Chat service (available Monday through Friday, 8am-4pm EST).
The following chapter of our learning guide will go over how to:
Set up your semester
Navigate the Markboard app
Create and enroll your students
Customize your settings
Note: You will need to have created your account in your browser before you can access the mobile Markboard app.
How can I start using Markboard?
When you create your account for Chalk, you will be prompted to set up your semester. This set-up is essential for being able to use both Planboard and Markboard. Setting up your semester involves a few things: picking your start and end dates, creating a name for your semester and adding classes. The semester holds all of your students, subjects, and content for your Chalk school year.
Step 1: 
After logging in for the first time, you will be automatically directed to the Semester setup page. The first thing you'll want to do on this page is name your semester. Since I have one long school year, I will be calling mine "2019-2020 School Year".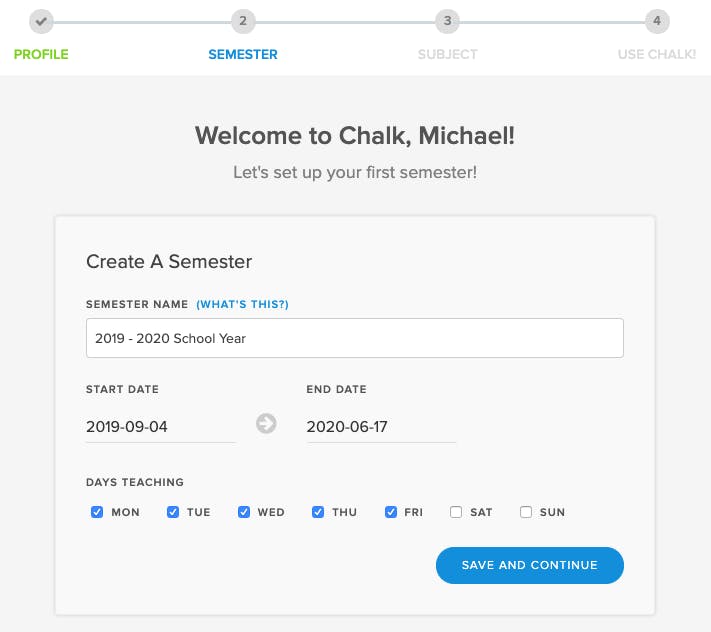 Step 2:
Next, you'll want to pick your start and end dates. You can do this by clicking in the start and end date areas of the box. I will have the same students and timetable the entire school year so I entered the first and last day of school.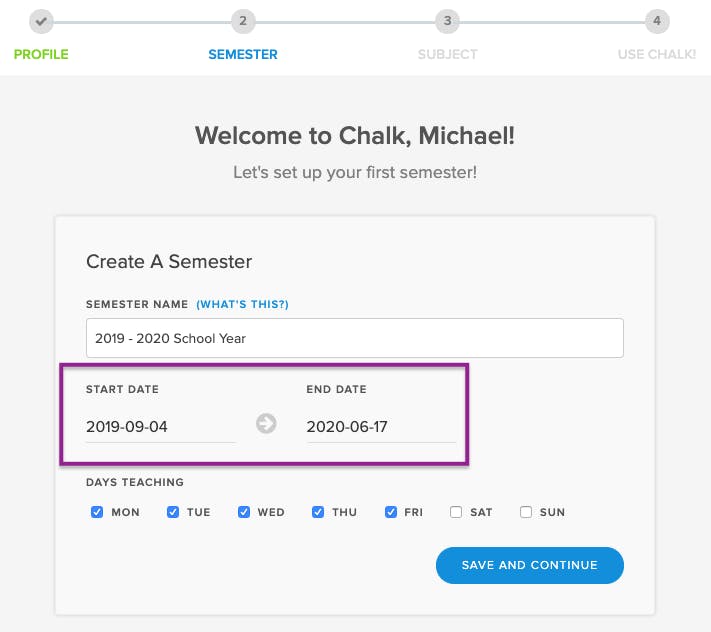 Note: You can edit your end date at any time, but your start date cannot change without the help of Chalk Support. See this article for more information on editing your semester. 
Step 3:
Select the "teaching days" of your semester. This will be the days that your school has in their "Rotation". In most cases this is Monday to Friday, but differs from place to place.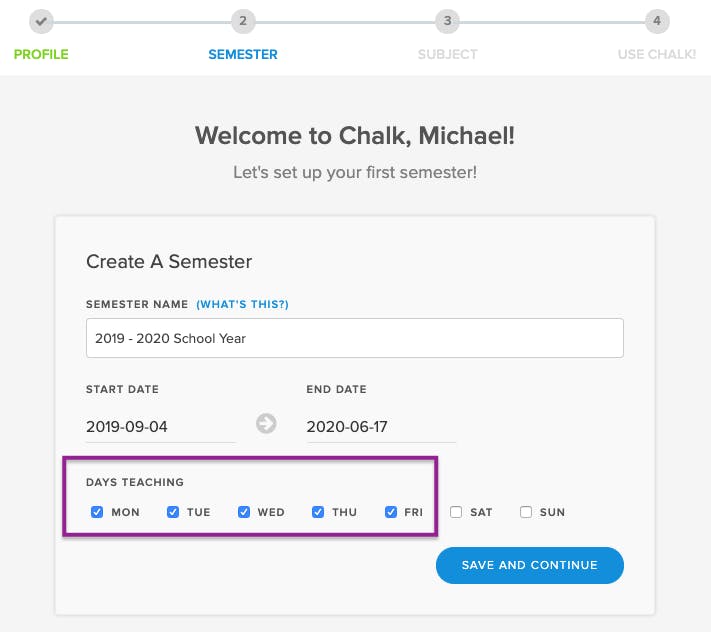 When you're done, select the Save and Continue button to move to the next step.
Setting up Your Subjects
Setting up your subjects is essential so that you know which classes you are grading and creating assessments for in Markboard.
Here is a quick breakdown of the difference between subjects and non-teaching blocks when it comes to scheduling in Chalk:
Subjects are relatively straight-forward. You might teach Grade 11 English, Grade 10 English and Grade 12 World History all in the same semester. These would get their own subject, making them easy to distinguish between for assessments, grading, and observations.
A Non-Teaching Block is a period of time that you'd like to have in your schedule or timetable, but doesn't require any lesson planning. This could be Lunch, Recess or maybe Study Hall. If you are only using the gradebook feature in Chalk, you likely don't have a need for non-teaching blocks. For more information on adding non-teaching blocks, click here. 
Step 1: 
Select the plus icon on the right hand side.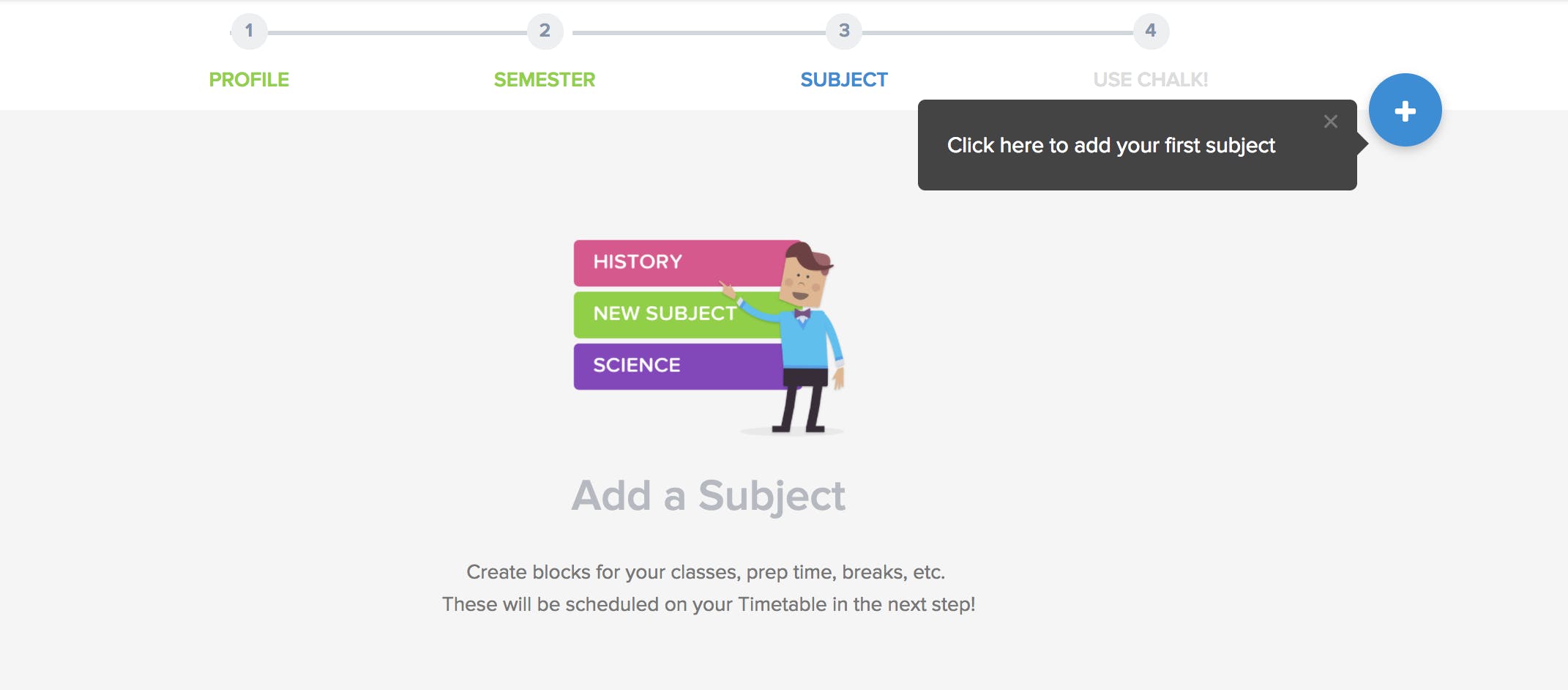 Step 2: 
Select the Subject option in the drop down menu that appears.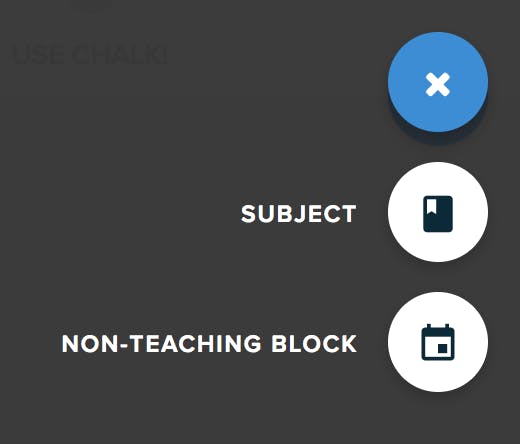 Note: If you have classes created in Google Classroom, you can import them into Markboard by following the instructions here.
Step 3: 
Click where it says Subject Name to edit your Subject block. 

Step 4:
Name your subject in the Subject Name box.
Step 5:
Select the colour you would like to assign the subject. This is optional if you want to keep the randomly selected colour that it originally has. 
Note: You can click on the colour picker icon for more colour options.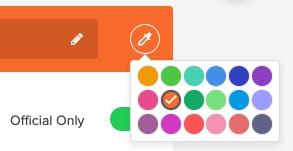 Once you have everything set up to your liking, you can finalize your settings by clicking on the following options:
Select Planboard to move onto your timetable and get started on Lesson Planning. 
Select Markboard to start setting up your Assessments.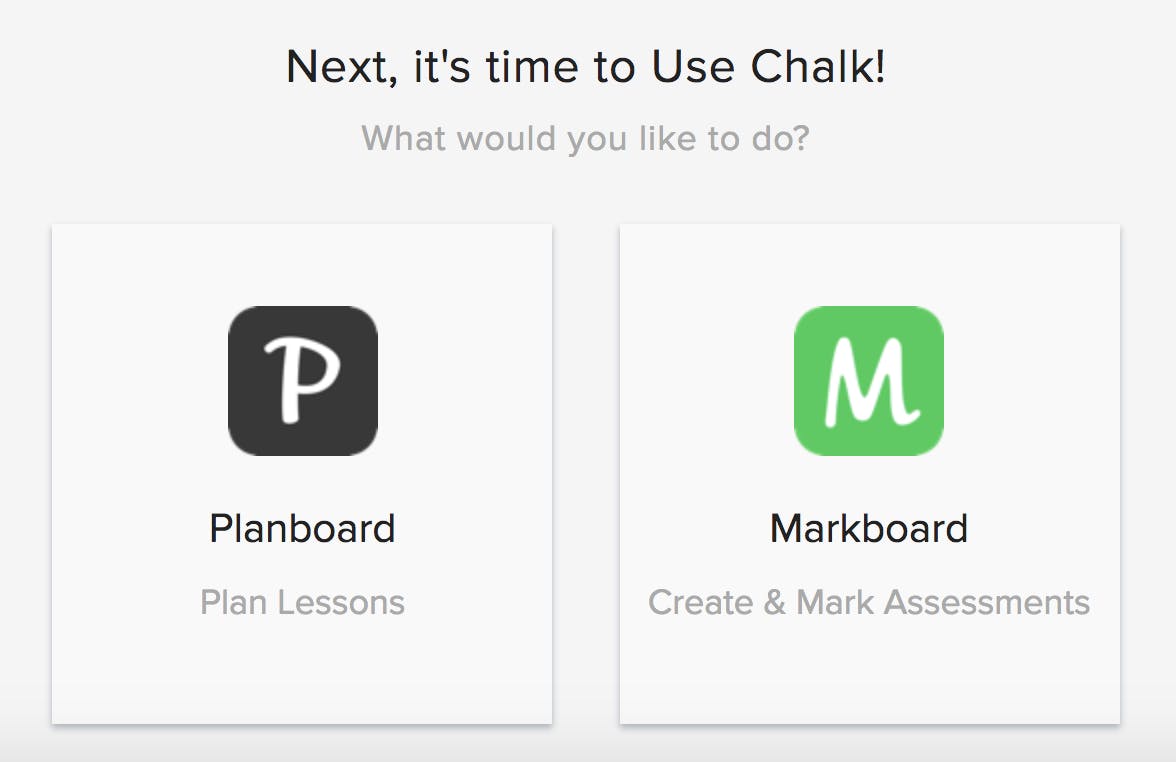 Please use the web browser to complete the setup process for your account before using the Markboard mobile app.
Please use the web browser to complete the setup process for your account before using the Markboard mobile app.
Step 1:
Within Markboard, select the subject that you would like to enroll students in. 
Step 2: 
From the class's main page, select the Students tab along the top. 

Step 3:
If you have yet to create the student or group of students you would like to enroll, select the Create button.
Note: If you have created the students you would like to enroll already in a different class, skip ahead to Step 7 for how to enroll existing students. 

Step 4:
The Create New Students option will appear. In order to create a student enter their name First Last, Student ID.
Note: The student ID is an optional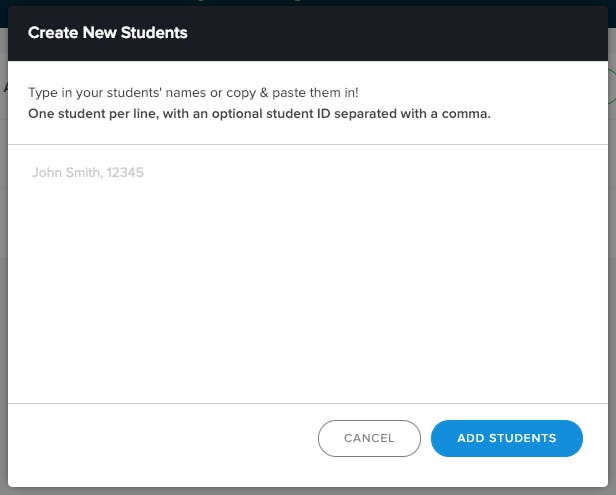 Step 5: 
When you've finished entering your students it will look like the picture below. When you're done, select the Add Students button.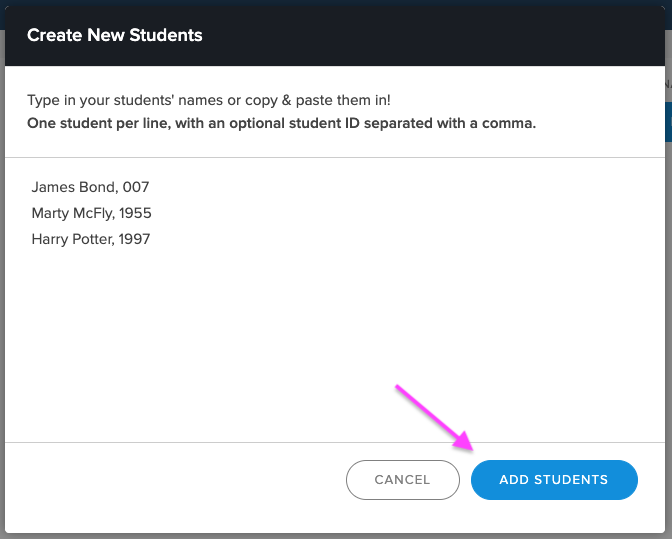 Step 6: 
Your students will then be created and enrolled to the class automatically. 

Step 7: 
To enroll existing students that you've already created in another class, select the Enroll button. 

Step 8:
There are two options to enroll students. To enroll individual students, ensure that you're on the Individual Students tab and then select the Enroll button beside the student you would like to enroll in the class.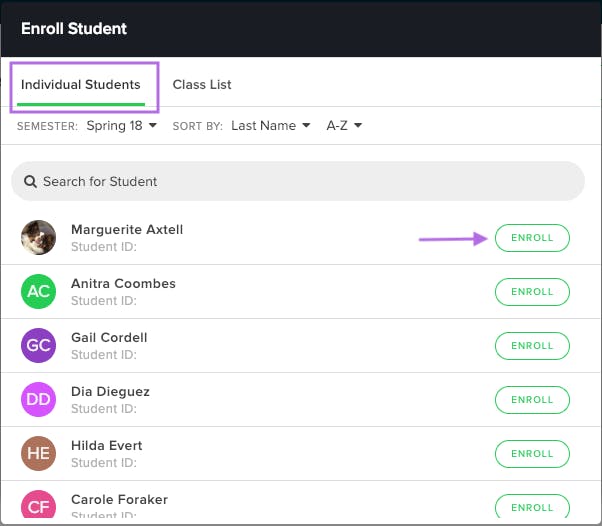 If you would like to enroll an entire existing class, select the Class List tab. Here you will be able to select the Enroll Number of Students button to enroll all of the students in that class into the current one.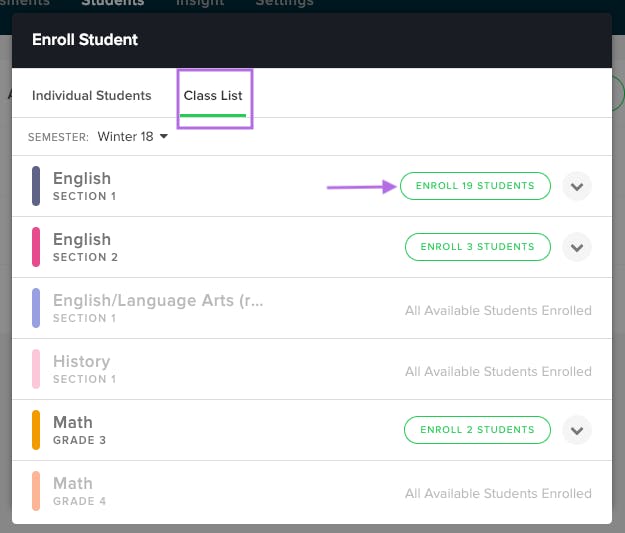 Unfortunately, this feature is not yet available for mobile.
Unfortunately, this feature is not yet available for mobile.
How are grades calculated in Markboard?
Assessments in Markboard are grouped by categories for marking. Categories are averaged based on the weighting assigned on the settings page to get a students average. For example, if you have 2 categories, Quizzes and Homework, the average would be calculated as "studentAverage = (QuizAverage * QuizWeighting + HomeworkAverage * HomeworkWeighting) / (QuizWeighting + HomeworkWeighting)". If a category has no assessments it is not included in the average.
Now, let's take a look into how each category average is calculated. Within a category, each summative assessment is averaged -- formative assessments do not contribute to the overall grade. To customize how much a given summative assessment is worth within the category you can assign a custom weighting to it, by default this is set to 1. These weighting act like a multiplier and an assessment with 2x weighting will affect the average twice as much as an assessment with 1x weighting.
Extra credit assessments are a way that you can acknowledge when a student goes above and beyond what's expected. An extra credit assessment does not add itself to the number of assessments in a category. This means that if you have 3 regular assessments and 1 extra credit assessment, then the sum of the 4 assessments would be divided by 3 to get the category average. Note: When you have extra credit assessments it is possible for your students to have a grade of > 100%.
For each assessment, the last attempt for each student is taken for their final grade. If the last attempt is either omitted or ungraded then the assessment will not be counted towards their average.
Step 1:
From Markboard, select the class you would like to edit.
Step 2:
From the class, select the Settings tab.

Step 3:
All classes by default start with the following categories:
Homework
Quiz
Test
Assignment
Formative
You'll see each of these categories in a list on the left and visualized in a pie chart on the right as seen below: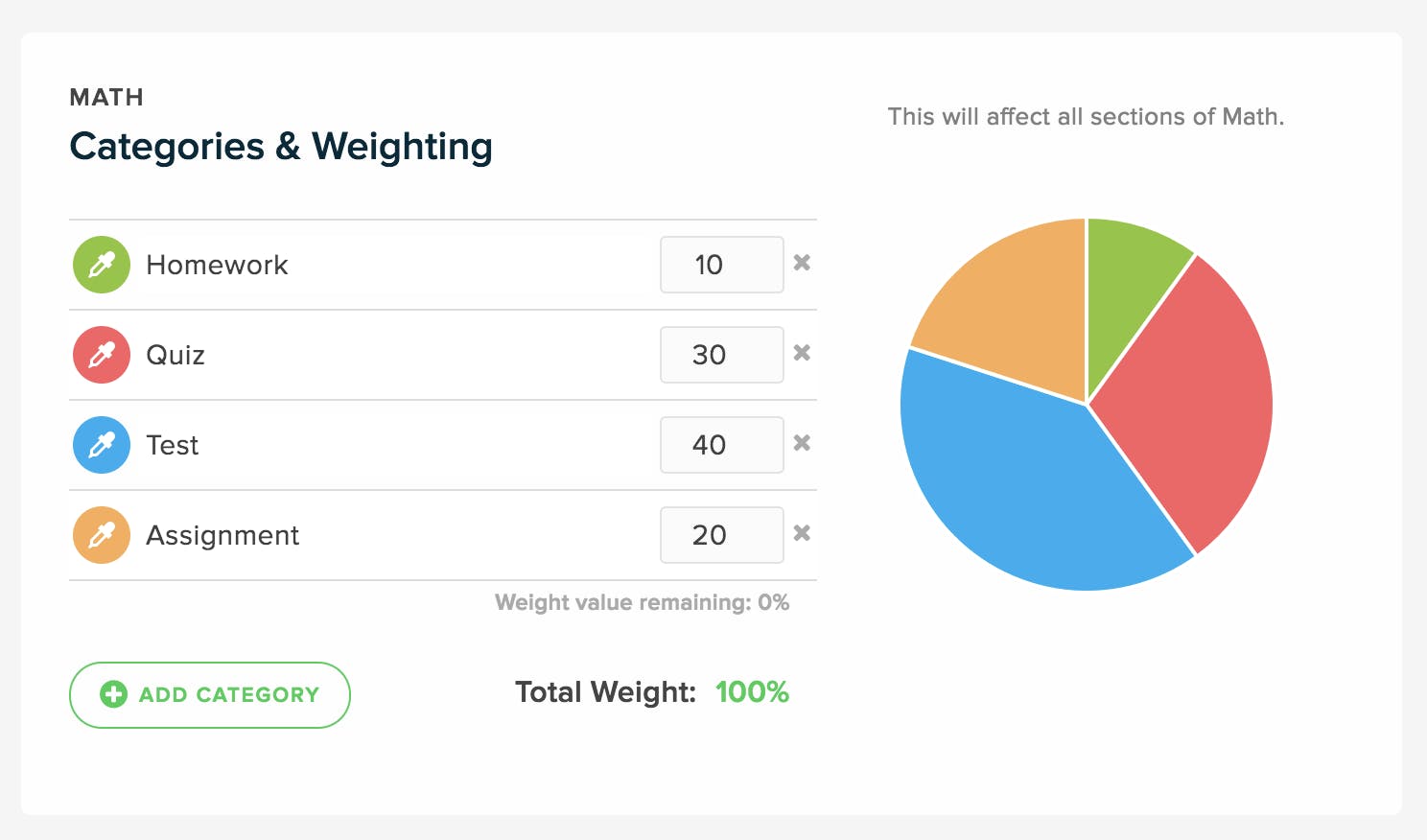 You can adjust the name or weight of each category by simply clicking on it and typing. Wait a moment and you'll see the pie chart automatically update when it saves.
You can also create additional categories clicking the Add Category button at the bottom.
Deleting a Category
You should see an X to the right of each category weight, click this to delete that category.
Note: once a category is deleted it can not be recovered, you'll also need to specify what category assessments created in this one will be migrated to 
For example if you delete the Assignment category you'll need to migrate all existing assessments in that category to one of the other categories for this subject. (i.e Homework)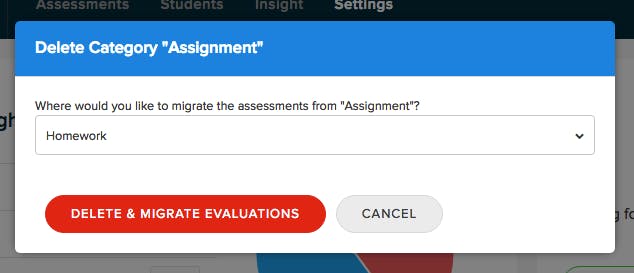 Note: Each subject must have at least one category.
Unfortunately, this feature is not yet available on mobile. 
Unfortunately, this feature is not yet available on mobile.